Knicks flipping GMs and catering to Melo, but what does Melo want?
The Knicks usher in a new GM in Steve Mills, who, big surprise, is catering to Carmelo. But Ken Berger asks: what does Carmelo want?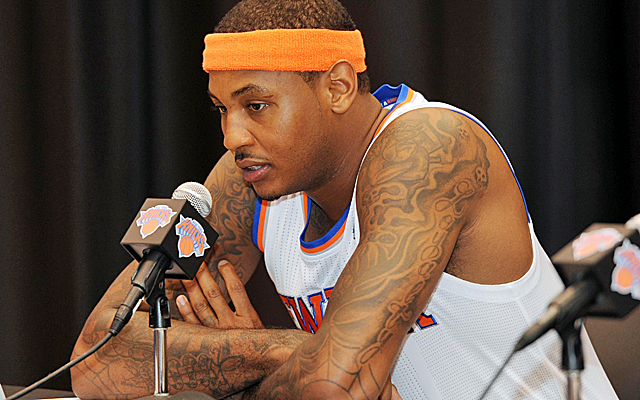 GREENBURGH, N.Y. -- For the latest window into the alternate universe of the New York Knicks, we come to you from the MSG Training Center in beautiful Westchester County. Let the reading between the lines and examination of all available tea leaves begin.
While normal NBA teams in the rest of the country were discussing such mundane topics as how changes made months ago to the roster, front office or coaching staff would play out this season, the Knicks used media day to introduce their new general manager. Steve Mills, hired only five days before the start of training camp to take over as president and GM of a team that won 54 games last season, had his first opportunity to explain what in the name of Isiah Thomas he was doing here.
Everyone already knows what the job entails, however. There was no need to explain that.
"We are fortunate to have a player like Carmelo Anthony on our roster," Mills said on Monday. "He clearly is one of those superstar players that don't come around very often. And the things that he has seen and done to make this team successful and to represent this city is something that is very important. And so while it's premature in the process, we think it's clear that we have every intention of making him a Knick for a long time to come."
This was from Mills' introductory remarks, before he had even been asked a question about Anthony, who skillfully engineered the trade that sent him to New York 2 1/2 years ago and can just as skillfully engineer his way out next summer, when he has an early termination option in his contract. This, more than anything else, explained why Mills was addressing reporters on media day instead of the former GM -- the guy who actually worked on the trade that brought Melo to the Knicks -- Glen Grunwald.
All of this begs some serious questions as the Knicks try to take another step forward after last season's breakthrough into the second round of the playoffs, while simultaneously trying to fend off a serious challenge from the Nets for Atlantic Division and New York City supremacy.
1) What does Carmelo Anthony want, exactly?
2) What can Steve Mills possibly do to deliver it to him?
Maybe I'm naïve or just not as perceptive as I used to be, but I came away from this rare visit to the Knicks' suburban nerve center as confused as I could possibly be on both counts.
Since Anthony arrived in New York in February 2011, the Knicks have turned the franchise over to him. They ran off a coach, Mike D'Antoni, who tried to challenge Anthony to expand his game and installed a coach, Mike Woodson, who was content to let Melo be Melo. Mills' first decision after returning to the Garden following a five-year hiatus was to pick up Woodson's option for the 2014-15 season. So Mills, the consummate company man, is off to a great start when it comes to the only thing that matters: making Melo happy.
They've given Anthony input in personnel decisions and surrounded him with former teammates from Denver with whom he is comfortable -- J.R. Smith and Kenyon Martin. From top to bottom, important figures in the organization are represented by the same firm that represents Anthony, Creative Artists Agency. Woodson was strong-armed into firing his longtime agent, Joel Glass -- who has since died -- and hiring CAA in order to secure a contract extension in 2012.
Before he arrived in New York, Anthony was chided for getting out of the first round only once before in his career. With the Knicks, a team that hasn't won a championship for 40 years or been to the Finals in 14 years, he's celebrated as a hero for leading the team to the second round. What's more, Anthony apparently feels no particular pressure to do more.
"I don't want to put that pressure on our team, on myself or our guys and say, 'It's championship or bust,' " Anthony said on Monday. "I want us to go out there and just play ball, take it one game at a time, get better and have fun doing that. Because at the end of the day, if we're all having fun, it will be a successful season."
What more could a pampered superstar want? How much more could Mills do to celebrate and insulate Anthony than the Knicks have already done?
"When that time comes, I'll deal with that," Anthony said, vowing not to discuss his impending free agency. "I'm not going to go through the season thinking about my contract. I'm actually under contract now. I'm not going to think about it; I'm not doing that."
When Anthony was in Denver, he was one of the most accessible stars in the NBA -- an insightful interview subject who was always available. When you're a Knick, you're shielded from all but the mandatory media access. Your questions and answers come in a formal setting, with the full force of the Garden's PR machine monitoring every word.
When you're a Knick, you can have as many surgeries as you want and the public will never know about it -- until a reporter finds out and publishes whatever details can be unearthed. Woodson and Amar'e Stoudemire admitted on Monday that the team's $100 million forward had his third knee operation in 12 months back in July. It either took a little longer than usual to prepare the press release or the New York Daily News story revealing details of Stoudemire's procedure greased the wheels a bit.
The team likes to say "once a Knick, always a Knick," but what does that really mean? No pressure, no responsibilities, no accountability, plus the city of New York as your playground. Call me crazy, but this seems like a dream scenario for any star looking for a more protective cocoon over the next two years, when the Knicks will open up cap space and their warm bosom to any star who wants to share this charmed life with Anthony.
So back to the original question: Why did the Knicks need Steve Mills for that? The team is trying to sell Grunwald's ouster and Mills' return as some sort of conscious change of direction. Never mind that a team coming off a 54-win season and its first playoff victory in 13 years seemed to be going in a good direction.
When James Dolan suddenly approached him about the job, Mills said the Garden chairman spoke about "rebuilding the basketball organization into the best basketball organization in the NBA." This would imply that Dolan finally recognized that something was wrong and in need of repair -- that the Knicks aren't the "storied franchise" they are often portrayed to be.
The Knicks are a storied franchise, all right; one rife with horror stories, some of the worst of which occurred toward the end of Mills' run as the Garden president from 2003-08. (Google: "Isiah Thomas Knicks Garden Anucha Browne Sanders.)
Mills is a good man with a shrewd business mind and deep relationships planted firmly across the NBA landscape. But he has never been a GM -- never had final say over basketball decisions. On Monday, he sounded more like the head of one of those consulting firms that big companies bring in to "reorganize" and "streamline operations." He sounded like the guy from Office Space who kept moving Milton's desk.
"I'm going to be assessing every aspect of the team over the next six months or so," Mills said.
What does that even mean? Will director of pro personnel Mark Hughes or director of player personnel Mark Warkentien (Mills called him "Warkenstein" on Monday) soon find themselves muttering away like Milton from behind their desks in the bowels of Penn Station?
Mills did say something potentially important about why Dolan dumped Grunwald and brought him back, a reference to the Nets' approach of unabashed spending under their owner, Russian oligarch Mikhail Prokhorov.
"He did express that he felt that in today's environment that the NBA is in -- sort of the punitive nature of the tax structure and the salary cap -- that he wants to have an organization that is the best that there can be in the NBA," Mills said.
In other words, if I don't want to chase every dollar that Prokhorov spends on luxury tax, what else can I do to make players want to come here?
Here's the problem: If Dolan was really looking for someone to reinvent the Knicks as a basketball organization and make the franchise worthy of its faux flagship status, that person already worked at the Garden and left. His name was Donnie Walsh. Mills would've done good work as the executive director of the National Basketball Players Association and will do what Dolan asks him to do at the Garden, as he always did before. But he's no Donnie Walsh. Nobody is.
In 2008, after an era pockmarked by scandal and ineptitude, Dolan miraculously hired the one man alive who could've done the things that Mills says Dolan wants done now. Walsh took care of the cap management and player acquisitions and put the basketball roster on solid footing. But he tried to do so much more. He tried to reconnect the Knicks to the greats of their past, tried to bring a dose of class back to the executive offices -- a human touch that was missing before Walsh was there and has been missing since the day he left.
"I really don't know as far as how to change that perception," Anthony said. "For me, it's all about having and being involved and being a part of a winning organization, a winning atmosphere. You've got to want to be a part of a winning situation.
"I really don't know the reasoning behind Mr. Dolan, Steve Mills and Glen Grunwald, but as far as for me, I can't worry about that," he said. "Mr. Dolan has his reasons. I'm not a GM and I don't want to be a GM. If there's something that Mr. Dolan wants to bring past me or run past me, I'll be happy to sit down and talk with him. But as far as making any decisions like that, I have no clue. I let the front office be the front office and I do my job on the basketball court."
It's all one big, happy family, you see. For now.
Kevin Mackey says he gave Manute Bol a birthday because they didn't know how old he was

Hosts Bill Reiter and Reid Forgrave are joined by America's Lakers Podcast co-host Aaron L...

Meanwhile, we learned the hard way just how many supporters Lonzo Ball still has out there
The fifth-year forward has continued his growth on both sides of the floor

Former Vegas bookmaker Micah Roberts just locked in his pick for this huge Wednesday night...

Another tough blow for a Clippers team that has lost nine games in a row