Knicks formally announce Phil Jackson as team president
The Knicks formally announced Phil Jackson as the new team president in a press conference which included James Dolan talking a lot.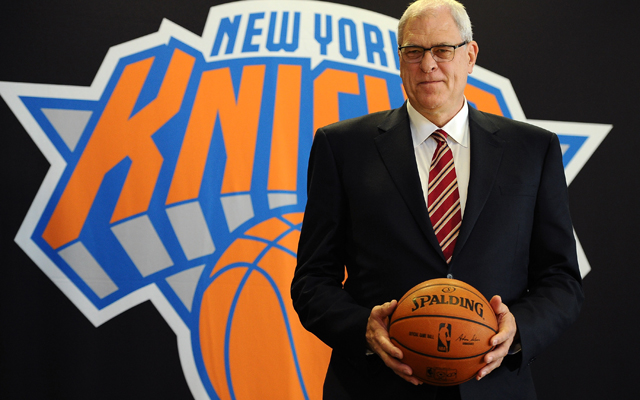 More NBA: Power Rankings | Expert Picks | Latest news, notes
Sitting alongside owner James Dolan and general manager Steve Mills, Phil Jackson was formally introduced as the Knicks' team president on Tuesday. 
"So today is an historic day for the Knicks as we announce that Phil Jackson has been named our team president," Dolan said.
"This is someone who knows about winning, about the importance of a clear vision and culture that ensures the team wins," Dolan said. "Like his team did when he played for the Knicks. Today that clear vision and culture have come back to New York. Regardless of our record when you have a chance to get Phil Jackson to run your team, you do it. Welcome home Phil."
And Jackson will have that freedom to grow his vision.
"Phil will be in charge of all basketball decisions," Dolan said.
"I am by no means an expert in basketball," Dolan said. "I'm a fan, but my expertise lies in managing companies and businesses. I think I'm a little out of my element when it comes to the team. I found myself in a position where I needed to be more part of the decision-making for a while. It wasn't necessarily something I wanted to do but as chairman of the company I felt obligated to do. And I'm happy now to have a team of Phil and Steve to do that and my whole job is supporting them in winning a championship. And that's a lot easier than what I've had to do in the past."
Jackson, who of course has won a total of 13 championship, two as a player with the Knicks and 11 as a coach of the Bulls and Lakers. He talked about his plan for restructuring the Knicks, which included his idea for a plan on the floor.
"I believe in system basketball," Jackson said.
Jackson said he's signed a five-year deal, which provides a lot of time to try and fulfill his vision of building. And within that vision, it definitely includes Carmelo Anthony, he is an unrestricted free agent this summer.
"I have no problem committing to saying Carmelo [Anthony] is in the future plans," Jackson said. "There are a number of things I see Carmelo doing as he moves forward. And as great as a player Carmelo is, he still has another level to get to."
Jackson was also asked if he has any interest in potentially still coaching, to which he said no, citing his health.
"I'm too old to play, and I'm too lame to coach," Jackson said.
The biggest question for Jackson was going to be his relationship with the notoriously controlling Dolan, but the Knicks owner said he has no problem laying the basketball power at his new hire's hands.
"Willingly and gratefully, yeah," Dolan said of ceding authority to Jackson.
Jackson also endorsed coach Mike Woodson, at least in the short-term saying his focus is on the team trying to make the playoffs this season with Woodson in charge.
"He has shown that he is a very good basketball coach," Jackson said of Woodson.
But Jackson also said he'd be speaking with Woodson after the season with regard to his future with the organization. Asked if Jackson would encourage whether it's Woodson or a new coach to run his former offense, The Triangle, Jackson seemed to prefer running that.
"It's not an insistence, but I do like to have a system, a method of playing basketball," he said.
The Cavaliers, you might have heard, are slipping

Here's how to watch Jimmy Butler and the Wolves take on Blake Griffin and the Clippers

James Harden, Chris Paul take on one of the hottest teams in the Eastern Conference
We've got all the scores, highlights and news from all of Sunday's games

The Rockets beat the Warriors 116-108 on Saturday night

The Cavaliers gave up 148 points in their loss Saturday afternoon to the Thunder