Knicks held back news of Jeremy Lin's knee injury to sell playoff tickets?
Hard to have playoff Linsanity if Jeremy Lin's injured and not playing, right? At least that's how the Knicks evidently saw it.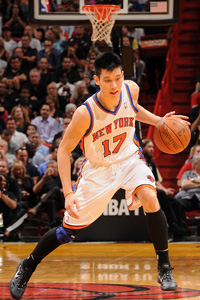 Hard to have playoff Linsanity if Jeremy Lin's injured and not playing, right? At least that's how the Knicks evidently saw it.
Lin had knee surgery to repair a torn meniscus and he'll be out at least six weeks, which leads right up to the playoffs. Whether or not he'd be ready then is up in the air. But the Knicks didn't want you to know that, instead keeping Lin's injury quiet so they could sell more playoff tickets,
according to the New York Daily News
:
That was a crucial day inside the club's executive offices at Two Penn Plaza because March 28 represented the deadline for season- ticket holders to purchase all four rounds of the playoffs.

In fact, in the email sent to subscribers, there is a picture of Lin leaping in celebration. Yet, it was two days before the deadline when Lin and the Knicks' medical staff learned that the second-year point guard/cash cow was suffering from a torn meniscus in his left knee and that he wouldn't be jumping for joy anytime soon….

On Friday in Atlanta, Woodson told reporters that he didn't know "when" or "if" Lin would return to the lineup. Within one hour, the Knicks' media relations staff released a statement to select media outlets contradicting Woodson.

Suddenly, the Knicks' position was that there was a chance Lin could play either Tuesday in Indiana or Thursday in Orlando. In theory, they weren't wrong. Lin had yet to decide whether to go ahead with surgery. However, Lin was leaning that way and the fact remains that the club had yet to announce the results of an MRI taken four days earlier. Lin's knee wasn't just sore. It is damaged.
So the Knicks knew about Lin's injury but sat on the information to sell playoff packages. Teams sell tickets for every game of the playoffs now all the way through The Finals. If they get eliminated early or don't even make the postseason -- which could happen to the Knicks -- the money is returned. Still though, teams make interest off the money "invested" into the ticket packages.
Of course there's an easy out for the Knicks. They can just say Lin hadn't decided whether or not he wanted to have surgery. But let's face facts: The Knicks knew about Lin's injury right away and didn't release his injury for a week, instead just claiming it was sore. It's not like there was confusion about the injury. They knew. They just didn't want anyone else to know.
Whether that was just to sell playoff tickets using Linsanity as the hook or it was for another reason, it's sketchy. They obviously fear fans will bail on them if there's no Lin, as well as the possibility of no Amar'e Stoudemire. So to try and preserve their financial interests, they just kept things quiet to sell some tickets.
But it is the Knicks. Should we really be surprised?
Via PBT
CBS Sports HQ Daily Newsletter
Get the best highlights and stories - yeah, just the good stuff handpicked by our team to start your day.
Please check the opt-in box to acknowledge that you would like to subscribe.
Thanks for signing up!
Keep an eye on your inbox for the latest sports news.
Sorry!
There was an error processing your subscription.
This is the first time LeBron has started 0-3 since 2004

The Trail Blazers embraced Halloween before their game on Monday night

Dealing with pressure and expectations instead of doubt, the Pacers are trying to block out...
Ingram was suspended four games for his role in Saturday night's brawl, while Rondo got three...

The Bucks opened up their new arena, Fiserv Forum, this season

The outspoken 76ers star grew up dreaming of being an astronaut