Knicks' Jackson fined $25K for tampering comments about Fisher
Knicks President of Basketball Operations fined for tampering.
More Offseason Analysis: Coaching changes, news | Free Agency | Draft
ESPN first reported and the NBA has confirmed that Knicks President of Basketball Operations Phil Jackson has been fined $25,000 for his comments about Thunder point guard Derek Fisher potentially coming to coach the Knicks. The league essentially views this as tampering since Fisher was still under contract with the Thunder.
The league's 30 teams were notified of the fine by league memo Monday afternoon, the sources said.

Among the reasons the league took this step, sources said, was to reinforce its annual reminders to teams of the league's anti-tampering rules, which prohibit teams from direct or indirect expressions of interest in other teams' impending free agents.
via Phil Jackson fined for tampering with Derek Fisher of - ESPN New York.
Here's what Jackson said at a press conference Friday: 
Jackson said Fisher is "a person that's on my list of guys that could be very good candidates for this job."
via Derek Fisher of Oklahoma City Thunder undecided on retirement, coaching plans - ESPN.
The Knicks have significantly ramped down their coaching search efforts after Jackson's preferred choice, Steve Kerr, took the Warriors job.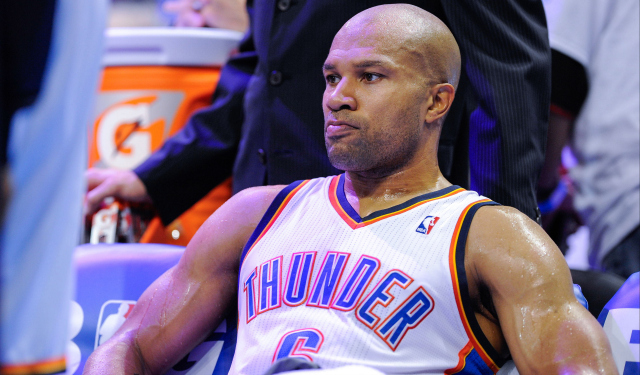 With 2K18 out everybody wants to know who has the 10 highest ratings in the game. Here's the...

Durant noted in an interview that all of the criticism in the immediate aftermath hit him...

Want the swagger of LaVar Ball? "NBA 2K18" lets you copy his absurd run from his WWE appea...
Durant apologized for a few tweets in which he criticized OKC and his former coach Billy D...

Lue does not expect the Cavs' big trade to affect the team's starting frontcourt ... at least...

Dwight Howard wants to be a farmer in his future and retire with his donkeys