Knicks' Jose Calderon: 'We'll win more than 17 games'
New York guard Jose Calderon doesn't want to talk about the playoffs, but he thinks the team will be better.
• 1 min read
The New York Knicks were a complete trainwreck last season, and guard Jose Calderon is optimistic things will be better next time. Calderon, who played only 42 games for the Knicks because of an early-season calf strain and an Achilles strain just after the All-Star break, said he feels like his Achilles is back to normal and wasn't worried about potentailly being traded this offseason, via the New York Post's Marc Berman:
"A lot of bad things happened last year,'' Calderon said. "We'll win more than 17 games and we'll try to win every game. I'm real excited we can do great things, but talking about the playoffs, it's too early. You don't talk playoffs a few weeks before training camp.''

…

"I never could get 100 percent the way the season is,'' Calderon said. "It was a very tough season for me and I couldn't play the way I wanted to. I needed time with the Achilles. I was thinking about myself. I want to play here a few more years.''
Calderon is smart to not entertain the idea of New York making the playoffs at this point. The way the roster is constructed, the Knicks would need to click extremely well to sneak in. Even in the Eastern Conference. You have to love Calderon going out on a limb to predict that they'll win more than 17 games.
New York might not be terrible next season, it's true. Knicks president Phil Jackson added solid veterans in Arron Afflalo and Robin Lopez this summer, and a healthy Carmelo Anthony will help a lot. Calderon being healthy should help the offense, too, but it's unclear how that will translate in the standings. There's no sense in making bold proclamations.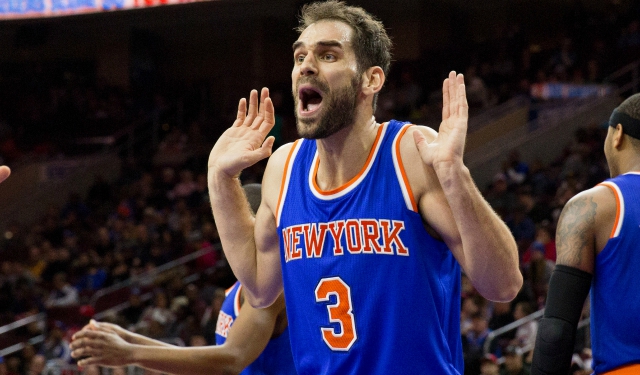 The investigation detailed a hostile workplace environment

Cousins suffered a torn Achilles tendon on Jan. 26, and will miss the rest of the season

Ingram has become one of the team's go-to players with Lonzo Ball sidelined with an injury
Giannis skipped EuroBasket last summer, and has missed four games this season with knee so...

Some of the best and worst from the league as we head into the home stretch of the season

Cuban acknowledged that tanking is 'brutal' and that he will no longer do that after this...