Knicks' J.R. Smith named Sixth Man of the Year
J.R. Smith was announced as Sixth Man of the Year Monday.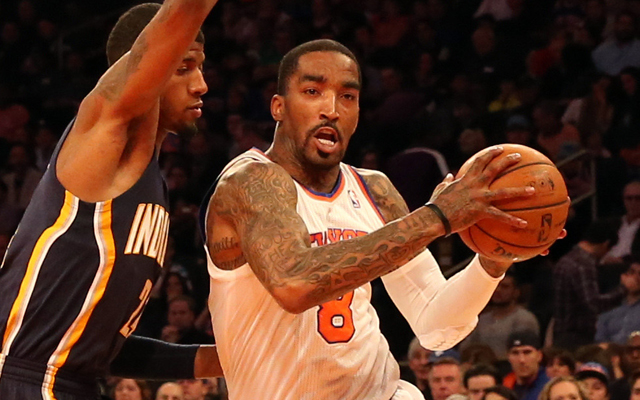 As Zach Harper of CBSSports.com has said all year, this truly is the Year of the Gunner. Knicks guard J.R. Smith been named the NBA's Sixth Man of the Year on Monday.
Smith received 484 points, including 72 first-place votes, from a panel of 121 writers and broadcasters. The Clippers' Jamal Crawford finished second with 352 points, getting 31 first-place votes.  Smith averaged 18.1 points in 80 games, all off the bench. He had 29 games in which he scored 20 points as a reserve, tying Crawford for the NBA lead.
Jarrett Jack finished third, Kevin Martin fourth.
Smith averaged 18.1 points, 5.3 rebounds and 2.7 assists on 42 percent shooting and 36 percent shooting from beyond the arc this season. In March and April he shot 45 percent from the field for 22 points per game, which likely boosted him past Jarrett Jack and Jamal Crawford for the award. 
The argument for Smith relies primarily on his scoring production as the No. 2 weapon behind Carmelo Anthony. His antics in terms of shot selection, defense, and wild play decreased this season, and when they did pop up, they were harder to notice because, well, that's kind of the Knicks half the time. 
But in March and April, Smith was vital for the Knicks' winning streak, which helped land them the No. 2 seed in the East, driving to the rim and drawing free throws. 
The Knicks' most effective lineup this season featured Raymond Felton and Jason Kidd, with Smith in the frontcourt, Anthony as the 4, and Tyson Chandler at the 5, which was 23 points better than their opponents per 48 minutes.
Smith averaged 39 percent from the field from December though February, half the season. 
Stephen Curry, who grew up in North Carolina, wants to be part of the next Panthers ownership...

Vince Carter is destined for a Raptors reunion; he doesn't know when it'll happen

Thomas has a target date for his return, and with the Cavaliers scorching, this could be h...
LeBron James once again is using his platform to be socially active

Not many games, but still plenty of action and intrigue Sunday in the Association

Kobe Bryant had a solid piece of advice for back in 2016 when he left OKC for Golden State