Knicks' J.R. Smith out 12-16 weeks with lateral meniscus tear
New York Knicks' guard J.R. Smith will miss 12-16 weeks after surgery to repair a lateral tear in his meniscus.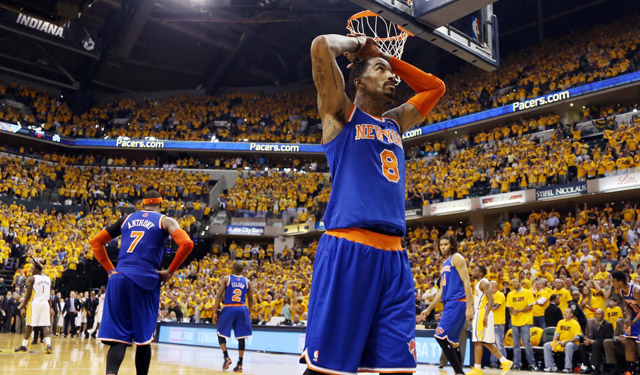 New York Knicks' guard J.R. Smith agreed to a four-year, $24 million with the team as a free agent when free agency opened. After winning Sixth Man of the Year for the 2012-13 season as a reserve scoring option for New York, Smith made sure to cash in for as much as the Knicks could conceivably offer him without leaving too much money on the table.
Unfortunately, it doesn't look like Smith will be ready to join the Knicks for training camp when they come together in late September, early October to try to improve on last year's 54-win season. The Knicks' PR Twitter account announced on Monday that Smith had patella tendon surgery for a tear in his lateral meniscus and he'll be sidelined for 12 to 16 weeks.  
J.R. Smith had patella tendon surgery & arthroscopy for a tear in the lateral meniscus, of his left knee, at the HSS in NYC.

— NY_KnicksPR (@NY_KnicksPR) July 15, 2013
J.R. Smith's injuries were chronic and gradually worsened. Recovery time is approximately 12-16 weeks.

— NY_KnicksPR (@NY_KnicksPR) July 15, 2013
This is the same injury that both Russell Westbrook of the Oklahoma City Thunder and Chase Budinger of the Minnesota Timberwolves had during the 2012-13 season. Budinger missed four months during the regular season but managed to play 23 games. Westbrook was knocked out of the playoffs in the first round when Patrick Beverley of the Houston Rockets crashed into him near the sideline. 
Smith will likely be back sometime between mid-October and mid-November, if the timetable provided by the Knicks is on the mark. The Knicks signed Metta World Peace to a contract on Monday after he was amnestied by the Los Angeles Lakers, but this could really affect the scoring options in the backcourt for the Knicks until Smith is back and fully recovered. 
Stephen Curry, who grew up in North Carolina, wants to be part of the next Panthers ownership...

Vince Carter is destined for a Raptors reunion; he doesn't know when it'll happen

Thomas has a target date for his return, and with the Cavaliers scorching, this could be h...
LeBron James once again is using his platform to be socially active

Not many games, but still plenty of action and intrigue Sunday in the Association

Kobe Bryant had a solid piece of advice for back in 2016 when he left OKC for Golden State