Knicks' Kurt Thomas has stress fracture in his foot, out 2-4 weeks
New York Knicks big man Kurt Thomas reportedly has a stress fracture in his foot.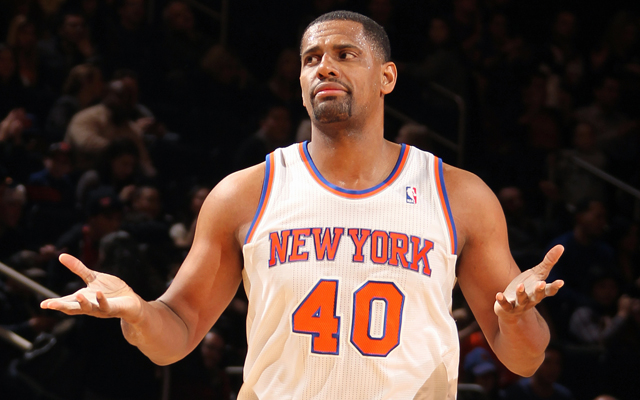 The New York Knicks can't stop themselves from getting injured right now. We've seen Amar'e Stoudemire have to go through his second knee debridement of the season. Carmelo Anthony's knee was just drained, and he's day-to-day. Tyson Chandler's injuries have him missing time. And Rasheed Wallace hasn't played since mid-December with his stress fracture.
You can add 40-year old big man Kurt Thomas to the list of injured Knicks, according to the New York Knicks:
An MRI of Kurt Thomas' right foot revealed an acute stress reaction surrounding a chronic stress fracture in his navicular bone.

— NY_KnicksPR (@NY_KnicksPR) March 19, 2013
Thomas is expected to miss approximately 2-4 weeks.

— NY_KnicksPR (@NY_KnicksPR) March 19, 2013
This isn't necessarily a new injury for Thomas. He had reports of a sprained right foot before Monday's game against the Utah Jazz, and now the MRI test is revealing it's a stress fracture? That means he potentially played 27 minutes Monday night on that injury or the previous sprained foot worsened to the point of creating a stress fracture during last night's action.
Thomas missing 2-4 weeks means he could be back in time for the playoffs and able to contribute in some manner for the team in a reserve role. He was finishing up his 18th season in the NBA, averaging 2.5 points and 2.3 rebounds in 10.1 minutes. He also shot 54.2 percent from the field this season. He was oddly effective in his short stints with the Knicks this season.
The Knicks are down to Marcus Camby, Chris Copeland, Kenyon Martin, and Steve Novak as their best big men available. Tyson Chandler and Carmelo Anthony could be back any game, as the Knicks desperately try to hold on to the Atlantic Division lead and the third seed in the Eastern Conference standings. They have a one-game lead over the Brooklyn Nets.
The Cavaliers, you might have heard, are slipping

Here's how to watch Jimmy Butler and the Wolves take on Blake Griffin and the Clippers

James Harden, Chris Paul take on one of the hottest teams in the Eastern Conference
We've got all the scores, highlights and news from all of Sunday's games

The Rockets beat the Warriors 116-108 on Saturday night

The Cavaliers gave up 148 points in their loss Saturday afternoon to the Thunder