Knicks' Metta World Peace speaks about Marcus Smart situation
After Marcus Smart pushed a fan Saturday night, New York Knicks forward Metta World Peace speaks about dealing with a situation like that.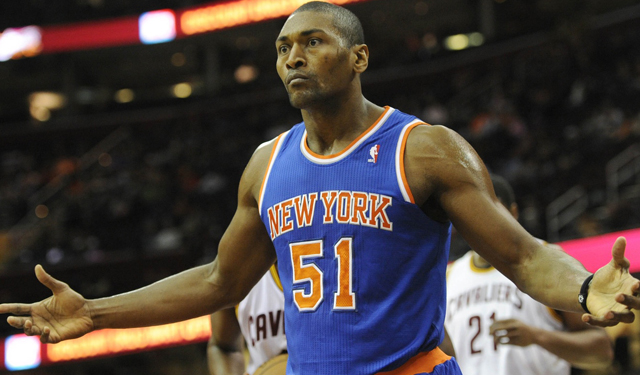 More on Smart: Smart shoves Texas Tech fan | Parrish: Can't do it
New York Knicks forward Metta World Peace may be the most authoritative voice on what Oklahoma State guard Marcus Smart is going through right now. On Saturday night, Smart reacted to something a Texas Tech fan said by shoving him while in the crowd. In the fallout of dissecting it Sunday, World Peace knows what Smart is going through, having gone through something similar (but much worse) back in 2005 when he was involved with the Malice at the Palace.
Before the Knicks' game against the Thunder on Sunday, reporters caught up with World Peace and asked him for his thoughts on that type of incident and what he might say to Smart as a bit of advice. From NewsOK.com: 
Q: Just because they give their money, does that give a fan the right to scream something?

A: If a fan screams something at me, I don't know what that person has been through, you know. He could have or she could have grown up rough or maybe in a single family household. I don't know what would make somebody scream negative things at somebody, maybe they're just having fun. In a pro game, I've learned to accept it because they pay to watch us play and hey, I appreciate it. Then I go home and I finish watching Breaking Bad. It's that simple for me. I'm actually on House of Cards now. I just finished Breaking Bad. I wish there was a Season 6 actually, because Breaking Bad was amazing. Have you seen it?

Q: If you could talk to Marcus, what advice would you give?

A: I don't know how old he is, but I know at 19 years old when I came out of St. Johns, I was fresh out the hood, fresh out of Queensbridge. So my mentality was still struggle, defensive and things like that. So I wasn't really conscious. But I'm 34 years old now. He's a young kid. I wish I would have listened when I was a kid, to my elders or to people who had my best interest at heart. And then I wish I would have been more conscious at my age. Those are two things that if you were to reach out to a kid like Marcus, a talented kid, a future leader in the community, you would tell him those things.
It's something Smart will have to deal with on his own and nothing that World Peace can necessarily flat-out teach him. But at least Smart knows that if he does look for advice somewhere around the basketball world, there is someone who knows what he's going through and can explain to him it could be much worse. 
He also added that if it happened today: 
A: [Joking] If you threw a beer at me, I probably would put you in a chokehold right now. And then we would go get some ice cream later, but I would probably tell you how much of an [expletive] you were.
Cavs star chose to be very secretive when talking to Lakers rookie after Thursday's game

New York announced Porzingis would not return shortly after star forward left game

Teletovic missed the final three months of 2014-15 season with Nets recovering from same i...
Keep it right here for all of the news, notes, scores and highlights from around the leagu...

The NBA's City edition Nike jerseys are bold and very different

The Wolves may be smoke and mirrors, but the Pacers have the look of a team that can hang in...