Knicks' Metta World Peace: 'You've got to come back home'
After announcing he signed with the New York Knicks, Metta World Peace talked about coming home to New York, improving and his options.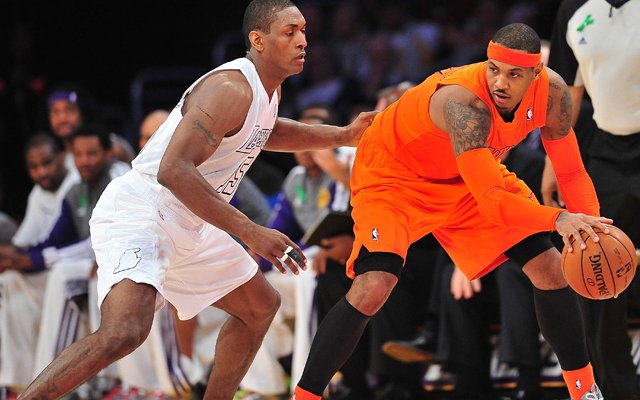 LAS VEGAS -- In a whirlwind of events, Metta World Peace showed up to the Cox Pavilion at the Las Vegas Summer League to announce that he would be joining the New York Knicks before holding an impromptu press conference with the media here. 
During that time, the native New Yorker expressed his feelings about everything from team chemistry to coming home to doing what he wants to do in life and why not filtering his creativity is so important to him. World Peace made it very clear during the few minutes that he spent with reporters that he was joining the Knicks to help them, not lead them.
"Doesn't matter," World Peace said when asked if he thought he'd start for his new team. "I don't care if I'm starting; I don't care if I'm sweeping the floors. You hear me? I want to win."
Winning was a big part of this move for the 14-year veteran, not just because he feels the Knicks will win, but he also wants to help bring the Knicks a championship that has eluded the franchise since the 1972-73 season.
"I want to do things that's hard," World Peace explained. "That's the challenge of being challenged. We all know it's the hardest place to win. Since [1975], right? '73. '72-'73. Why not take on something that's hard?"
Joining the Eastern Conference, where the Knicks won 54 games and secured the 3-seed last year but are now faced with the task of keeping up with the Miami Heat, Indiana Pacers, Chicago Bulls and Brooklyn Nets, all teams that have improved, certainly won't be easy. But that's part of the allure of coming home to play for the Knicks. World Peace had plenty of options.
He had considered a move to China to play for Yao Ming, former teammate and president of the Shanghai Sharks. He'd thought about playing Arena Football to promote versatility and help inspire kids to play more than just one sport and focus on more than just one dream in life. 
"The thing was y'all know I like to be adventurous," World Peace said. "I have no filter, and I have no filter in my creativity. Very bold. I changed my name. So the thing with the Arena Football League was really appealing to me. That was something I mentioned to everybody. And I'm pushing kids to play multiple sports, like Bo Jackson did back in the days. So playing arena football, who knows if I would have been good or not? But it was a way to inspire something that's always in my mind.
"Then my second option was China; that's different. You know you give -- too many guys in New York City I grew up playing basketball only focused on the NBA. They forget about other things, education and the world. And being in my prime, I think China would have been very inspirational. But then you get back to that orange and blue, and you know that orange-and-blue blood. You've got to come back home. You've got to come back home."
Coming home is not something the Knicks wanted him to do back when he was being drafted as Ron Artest out of St. John's. There were concerns that he wasn't mature enough to handle playing in his own backyard. This isn't something that he gets defensive about, either; he agrees with that predraft assessment from 1999, when he was selected 16th overall by the Bulls.
"As a young kid growing up in Queensbridge projects, you go and get into that world where you go from nothing to make a million dollars a year," World Peace admitted, "and so many people telling you, 'You're the best.' And you believe that, and you get in trouble.
"That's what happens to a young kid that's raised in a dysfunctional environment and a dysfunctional neighborhood. It takes 10 years for you to realize that you grew up in dysfunction, and you're going to continue to make mistakes if you don't change. Not change -- improve. You never want to change; you just want to improve."
World Peace will be a part of the task of helping the Knicks improve this year. They've added Andrea Bargnani and Tim Hardaway, Jr. while retaining Pablo Prigioni and J.R. Smith. They had to say goodbye to role players Steve Novak, Rasheed Wallace, Marcus Camby, Chris Copeland and Jason Kidd.
"We're going to help each other," World Peace said. "It's not about one person helping one person. It's about us doing this together. They have that if I'm not mistaken. They have chemistry.
"I thought they had a lot of injuries this year. I don't feel I'm the missing piece; I'm honored to be playing with these players. That's what I really think."
He'll try to bring his toughness, his defense, his experience and the fight and desire that he has shown throughout all of his NBA stops.
"Oh, no. You gonna get it," World Peace emphatically told everybody listening. "You gonna get it. You gonna get it now. Prime ain't nothing but a word. Heart -- that's what it really is."
We've got all the scores, highlights and news from all of Sunday's games

The Rockets beat the Warriors 116-108 on Saturday night

The Cavaliers gave up 148 points in their loss Saturday afternoon to the Thunder
Blatt made the comment before coaching in the All-Star Game in Turkey

Is this rock bottom for the Cavaliers because it sure feels like it is

Wade, as he's done so many times in his career, threw it up to LeBron for the thunderous f...