Knicks, Nets please star players by loading up in free-agency arms race
The New York Knicks and Brooklyn Nets have loaded up in free agency, to the delight of their star players.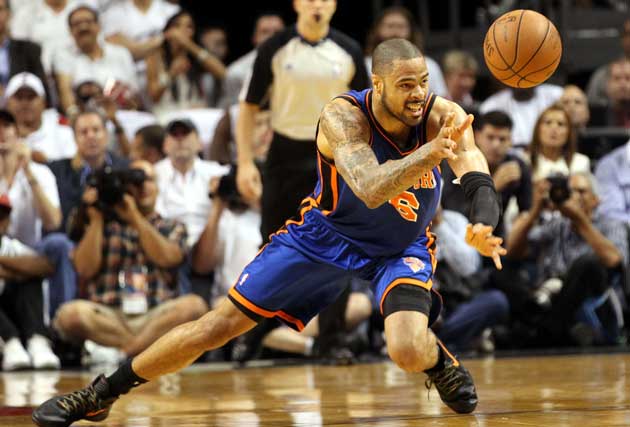 Tyson Chandler likes the the moves the New York Knicks have made to keep up with the competition.

(Getty Images)
LAS VEGAS -- There's still a salary cap, so this isn't quite the Yankees vs. the Red Sox, but the Nets' move to Brooklyn -- and the big-dollar player salary commitments that have come with it -- has marked their entry into what could become an ongoing arms race with the New York Knicks.
"Things aren't getting any easier out there," Knicks center Tyson Chandler said before Team USA practice Tuesday. "Teams are loading up. Everybody is chasing it, everybody wants to win now."
"It's the way you've got to go now to compete with Miami," Nets point guard and Team USA member Deron Williams said Monday.
The NBA's 10-day free agency moratorium ends at midnight July 11 and a flurry of transactions are expected to become official soon after. Both the Knicks, who have been re-shaping their roster after signing All-Star forward Amar'e Stoudemire in 2010, and the Nets, who have seemingly done three years worth of roster work in fewer than two weeks, have been among the NBA's most active teams.
New York executed its major moves before the July free agency period. The Knicks got way under the cap to sign Stoudemire as a max free agent two years ago, they bundled a bunch of minor assets to swing a blockbuster trade for All-Star forward Carmelo Anthony at the 2011 trade deadline (he got a 3-year, $65 million extension), and they used the amnesty clause on guard Chauncey Billups to set up a sign-and-trade with the Dallas Mavericks for Chandler (who cost $58 million over four years) during the December 2011 free agency period.
This summer has seen a series of minor moves after those previous ones put a serious crimp in New York's flexibility. Even with $52 million committed to Stoudemire, Anthony and Chandler in 2012-13, when the salary cap will be $58 million, the Knicks managed to add or retain four pieces over the past two weeks while putting itself into position to retain restricted free agent point guard sensation Jeremy Lin. 
They did it by getting creative. They are expected to give the mini mid-level exception, worth up to $3 million per year for three seasons, to veteran point guard Jason Kidd, a Dallas defector like Chandler, who is expected to back up Lin. Although Kidd is years removed from his prime, he remains a heady, offensive leader with quick hands and the ability to knock down an open shot. 
On Monday, the Knicks agreed to re-sign restricted free agent 3-point specialist Steve Novak to a multiyear contract, agreed to re-sign scoring guard J.R Smith to a 2-year deal and agreed to a sign-and-trade with the Houston Rockets for veteran center Marcus Camby.
While getting Kidd ($9 million over three years), Novak ($15 million over four years) and Camby ($13 million over three years) was costly and required offering longer-term deals than most teams would be comfortable with, Smith might be the best value move the Knicks made. His 2-year deal -- with a player option for the second season -- will pay him $2.8 million in 2012-13. That was the most the Knicks could offer him, as it reflects the maximum 20-percent bonus above the $2.5 million "room" exception they used to sign him after he returned from China during the 2011 season. By comparison, Nick Young, a similar scoring specialist off the bench, agreed to a 1-year deal worth a reported $6 million.  
"It means a great deal," Chandler said of Smith's re-commitment. "It takes a lot of the scoring pressure off of [Anthony] and [Stoudemire]. It gives us some options for a guy who can go out and get 30 every night."
Retaining Smith was crucial because the Knicks would have been limited to the use of smaller exceptions if they had to seek a replacement. It also takes on greater importance because guard Iman Shumpert, who just completed his rookie season, suffered a season-ending knee injury that is expected to keep him out into the 2012-13 season.
"That's huge," Chandler said. "Shumpert, I don't know what his timetable is when he's coming back, he's not going to start the season. The two guard position is very key in the NBA. We all know J.R. can fill it up. He's great coming off the bench and he can be a starter for us."
The Camby agreement raised eyebrows, mostly because of his age. At 38, Camby, a shot-blocking and rebounding specialist, is at least four seasons past his peak production years and the Knicks agreed to give him a 3-year contract that could conceivably carry him past his 41st birthday. But the third year is only partially-guaranteed and the per-year salary is a little more than $4 million per year, a huge drop from the eight-figure deal Camby just completed. The Knicks were only able to make that offer by packaging multiple contracts, two second round draft picks and cash, to get Houston to agree to the sign-and-trade. Most owners would balk at that type of proposition for an aging reserve center.
But the Knicks needed to fill out their frontcourt depth, and they were willing to pay to do it. Camby figures to back-up and act as injury insurance for Chandler, something the Knicks were clearly missing last season. He's a well-liked veteran with loads of playoff experience. 
"He's probably a better shot-blocker than I am," Chandler, the NBA's reigning Defensive Player of the Year, said. "He chases down shots."
Chandler even broached the possibility of a twin towers lineup that would see the two long, agile centers play alongside each other.
"I can see situations down the stretch where we're trying to get stops and just mix it up a little bit," he said. "We have scoring on the perimeter. We need finishers and guys who can defend and go out there and rebound."
Once the Knicks finalize those moves and officially match the Houston Rockets' four-year offer sheet to Lin, their rotation will include a Lin/Shumpert/Anthony/Stoudemire/Chandler starting five with a bench that includes Kidd, Smith, Novak, Camby. The group isn't title-worthy, it's expensive, it's old in places and dotted with injury issues in others, but it's a group that should have a better chance at competing for a playoff series victory than the 2011-12 edition, which was eliminated easily in five games by the Heat. 
Most importantly, it seems, all the key pieces have been retained and continuity can begin to develop. That's something Chandler, who won the 2010 title with the Mavericks, knows is of utmost importance.
"We've got to continue to grow," he said. "[But] we've got our core back."
Indeed, the Knicks will likely be fairly locked into this group for the foreseeable future. Questions about shot distribution, the fit between Lin and Anthony, and whether Stoudemire's best days are already behind him remain, even after all of these moves. The salary cap situation is even less flexible, as one could argue that Stoudemire, Anthony, Kidd and Camby would all be difficult to move individually. New York would argue that they would still have all of the same problems if they had gone a less expensive route.
The situation the Knicks faced this summer is one the Nets will face in summers to come. Having committed huge salaries to core players, the available choices are straightforward: add extremely affordable rotation players to fill out the roster or pay through the nose and get creative to add average and/or aging talent in order to make a run at a playoff push. For New York, it clearly wasn't a choice at all. They were going to double down and take a stab at it.
The Nets, it seems, have already undertaken a similar approach, albeit on a compressed timeline. By re-signing Williams to a max contract ($98 million over five years), agreeing to trade for All-Star guard Joe Johnson (4 years and $89 million remaining) and agreeing to-resign Gerald Wallace (overpaying him to the tune of 4-years, $40 million), they've put into place three core players who will command a huge portion of their salary cap.
Their path to get to this point has mirrored the Knicks' in many ways. They traded for an All-Star, they slashed-and-burned their payroll to land another, they moved a future asset (their 2012 Draft pick) to land Wallace. They've used their amnesty clause to create additional flexibility and, this week, they've explored a sign-and-trade for Dwight Howard as a mechanism for adding talent while being in a tight cap position.
The Nets' move to Brooklyn isn't only about a physical relocation, it seems, but a strategic convergence with their neighbors, too.
All of these moves have surely caused aggravation for the accountants in charge of tracking future luxury tax payments. And you can bet the small-market owners stuck competing for talent against the Big Apple's dual deep pockets will leave this offseason as frustrated as ever.
But the players couldn't be happier. Williams has raved this week about getting the opportunity to play alongside Johnson in what he sees as "one of the top backcourts" in the league. And Chandler, New York's biggest 2011 free agency acqusition, seemed stoked that his bosses have ponied up over the past ten days.
"We've got a nice roster right now," he said, smiling from ear to ear.
Thomas took to Twitter to let the Celtics know he doesn't want to ruin Pierce's night

The Hall of Famer was a seven-time All-Star with the Celtics, and was MVP of the 1976 Fina...

It's rare to see a legit punch in an NBA fight, but this was definitely one of them
We've got all the scores, highlights and news from an NBA Tuesday

The former Slam Dunk Contest champion will take his talents to Tri-State

Do NBA players have look-a-likes from famous paintings? We found out on the new Arts & Culture...