Knicks owner Dolan says Woodson safe for now, Thomas never to return
MSG mogul backs Woodson without formally supporting him, and says Isiah Thomas can never return to the New York sports scene after what happened.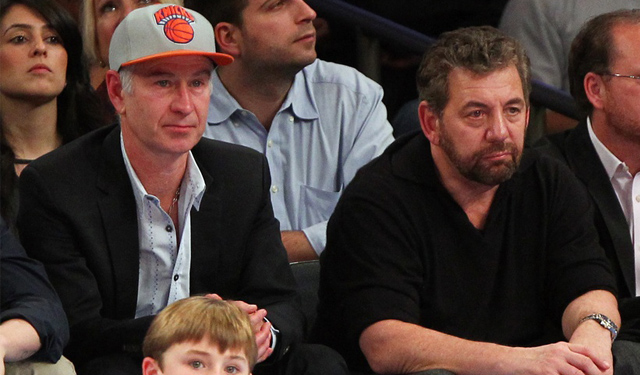 Knicks owner James Dolan granted the New York Post a rare interview this week, and the titan of MSG had some interesting quotes on a variety of subjects. 
The biggest question on everyone's mind about the 3-8 Knicks is the status of coach Mike Woodson. Dolan says Woodson's safe for now, while avoiding giving him the "vote of confidence" kiss of death. 
MV: I'm sure you heard the chants that have already started to fire Mike Woodson, which comes with the territory, naturally …

JD: Yeah …

MV: How patient will you be with him? He understood when he took the job the expectations that go with it. Will you give him a long rope?

JD: I have a lot of confidence in Woodson, and one thing I can say about Mike is he has the respect of all the players. They all respect him. And he treats them fairly and relatively equally, and that's part of where the respect emanates from. And those are hard things to get from a coach. When a coach loses a team … that's when a coach is kind of done.
via James Dolan dishes on Knicks, Rangers and the status of Isiah | New York Post.
Pretty good answer here. He avoids any semblance of a committment to him, while still supporting him. The reality is that if the Knicks keep losing, someone's going to have to go, and it's not going to be Carmelo Anthony. Woodson will have to pay the price for the club's failures whether it's fair or not if the team doesn't turn it around by Christmas. He's also set up pretty clear standards here. "Once I feel like he doesn't have the team anymore, he's gone." That's pretty fair, all things considered. 
Dolan also spoke to the complexities of his relationship with Isiah Thomas, and, in a move that's sure to make Knicks fans feel better, says Dolan is never, ever getting back together with Thomas in charge of the team. 
MV: For Knicks fans there's one word that riles their passion more than any other: Isiah.

JD: Amazing, isn't it?

MV: And you surely know the panic that ensues when a Glen Grunwald gets fired and people wonder, "Is Isiah coming back?"

JD: I can't control what's in other people's minds. I can tell you that he's a friend of mine. We speak, but not as often as we used to because he's really involved in other things now. We'll message back and forth once in a while. We used to talk a lot more often. He seems to be moving into another phase of his life, he's not as basketball-centric, he's doing a lot of charity work, he got his masters [in education, from Cal-Berkeley], he actually uses me to bounce business ideas off of …

MV: Do you still consult him, too, about basketball ideas?

JD: Not really. For Isiah, I don't know that he'll ever be able to work in New York. I just don't know that he'll ever get a fair shake, going forward in New York?

MV: Do you think that's unfair? He did lose a lot of games here.

JD: He lost a lot of games! OK. Do I think he deserves another shot? Yeah. It just can't be here. And I think he's talented. I think he's particularly talented at finding basketball talent. But I think he's probably dismayed at this point. But I don't see him coming back to New York. I couldn't do that to him, and I couldn't do that to the organization. He would probably do it as my friend but I couldn't do it to him or his family. And you know what the press would do here. We're interested in getting better and that situation would be such a distraction that it would actually hinder our ability to get better.
via James Dolan dishes on Knicks, Rangers and the status of Isiah | New York Post.
That sound you hear is a collective sigh of relief from Knicks fans, and a sigh of disappointment from everyone else. Nothing would be more "Knicks" than Dolan hiring Thomas who he's wanted to bring back several times only to be stymied by public opinion. The failures of alternative options, combined with the instability in the front office (GM Glen Grunwald was replaced by Steve Mills at the start of the seaso) makes for the perfect excuse to reinstall his friend Thomas, but apparently not even Dolan thinks that's a good idea. 
All in all, Dolan comes off really well in the interview, less like the tyrannical guitar-slashing Loony Toon he's made out to be and more of an actual, well, owner. We'll see if Dolan's decisions line up with the calm demeanor he's taken or if he gets impatient with the Knicks' struggles. Woodson says in the interview he still believes this team can win a championship. The moment he doesn't believe that to be the case is likely when things start to change. 
Get all the latest scores, news and highlights from Friday's NBA games

Porzingis is questionable for Carmelo Anthony's return to MSG on Saturday

The Spurs and Rockets will renew their in-state rivalry on Friday night
Anthony will play at Madison Square Garden on Saturday for the first time since being trad...

SportsLine's Mike McClure, a DFS pro with more than $1M in winnings, gives optimal lineup...

The Cavaliers won the much-anticipated matchup, 121-112