Knicks-Pacers: Carmelo Anthony and the pain of a flawed design
Carmelo Anthony fails to make the NBA Finals once again as the New York Knicks' best season in nearly 15 years falls short in a Game 6 loss.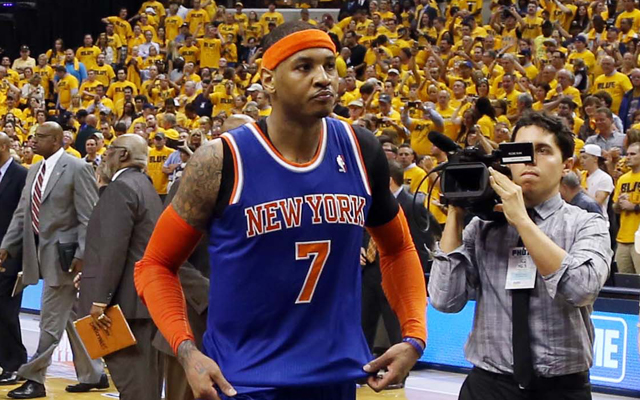 And once again, Carmelo Anthony goes home in May.
These Knicks were supposed to be different this year. They shared the ball in November and December. Sure, they went back to ball stopping, ball holding, draining the life out of possessions for three months of the season, but in April, they looked tremendous. Maybe they weren't playing the same style of creating looks like they did earlier in the year, but those tough shots were falling!
And then they didn't.
In Game 6 vs. the Pacers, Carmelo Anthony was transcendent. The rest of the team was frozen and making poor decisions. Anthony put the team on his back, balanced his jumper with driving to the rim and had a phenomenal game ... for three quarters.
• • •
Against the Grizzlies, Kevin Durant was incredible in Game 1, and great for most of Game 2. But without Russell Westbrook, the Grizzlies geared more and more of their defense into solely stopping Durant. Having one guy cooking works in a February night on three days' rest vs. the Bobcats. In the playoffs against a great defense, you have to force them to adjust, you have to force them to make mistakes, you have to create easy shots to frustrate them.
You can't try and overwhelm an opponent when they know what you're doing and how to stop you. It'll work for a while, but eventually, you run out of energy. It wears on you. You miss shots, you make mistakes, you get frustrated and lose control of your game.
Durant was forced into that design by a freak injury. The Knicks built that design carefully over a three-year process.
• • •
In the fourth quarter, Anthony was 2 of 7 for four points with three turnovers. He had one assist. And Roy Hibbert absolutely annihilated him at the rim.
A performance like that by any star is going to warrant criticism. The game was close headed into the fourth, the Knicks had a lead early in it. In that situation, you pay Anthony the max contract to take you home. You build your organization full of guys with connections to his representation to take you home. You build your offense almost entirely around Anthony to take you home.
Anthony is a singularly incredible talent. Strong, versatile, with excellent footwork and terrific range, when he's cooking, he seems unstoppable. But the system, and I hate to beat this drum again, is unsustainable. You can't rely on shots off the dribble, from Anthony and from J.R. Smith (who is a topic for another day), over and over again, and hope to beat playoff offenses.
Let's say you believe that you can. That one guy can carry you home, that one guy can get past Paul George's perimeter defense, and slip past the help defense from Lance Stephenson or David West and then shoot over Roy Hibbert.
The cost is then on the other end. The exhaustion gets to you, the wear and tear breaks you down, and eventually it's felt somewhere. For Anthony, it was felt all over the court. You can chalk up the missed shots to them just not falling against good defense. You can claim the turnovers are just the Pacers anticipating, or the Knicks not coming to the ball. But then Lance Stephenson took Melo into the post, worked him and scored on him to make one of the lock-it-up scores late in Game 6.
Anthony was so focused on offense for so much of the game, there was nothing left.
The response will be that Anthony did what he had to. That his teammates failed him and he did what he had to. But the real answer, and we've seen this from Kobe Bryant in past years to all the other high-volume shooters, is that if your teammates are struggling, you need to score in the flow of the offense but keep them involved. Cold begets cold. No one else stepped up for New York because they were never involved.
But they were ... for a while.
In the third quarter, J.R. Smith and Carmelo Anthony contributed eight of the Knicks' 19 field goal attempts. The Knicks won that quarter 34-26, with Iman Shumpert boosting the offense. In the fourth quarter, Anthony and Smith contributed 14 of the Knicks' 18 fourth quarter shots.
In that third quarter, Anthony scored 15 of the Knicks' 34 points. It's not about who scores. It's not even really about who takes the shots. It's about how the offense is run, about what the approach is, and about how everything has to be on certain terms that can't succeed, not consistently.
The Knicks were outscored by seven and will go home.
This isn't about what Melo is made of. He's a great competitor with a killer offensive game and the ability to take over when he's feeling it, something that few players in the league have. It's about how you build a team, it's about how you play the game.
Anthony has always been crushed for the result, that the repetitive playoff exists were always somehow his responsibility. The more revealing truth is that Anthony has never wanted to win any way but on his terms. And when it works, it's amazing. But eventually, it doesn't work. And it's in those moments that the wamrth of New York superstardom is cold, and Anthony once again heads home without reflection, without regret and without the accomplishment of a championship he so dearly desires.
The Cavs would reportedly entertain the deal, but there's really no point

Westbrook claims he doesn't remember calling Jackson's celebration 'bull----' back in 2016

Rose is reportedly sick of being injured, and it's 'taking a toll on him mentally'
SportsLine's proven computer model simulated Friday's Cavs-Hornets game 10,000 times

SportsLine's Mike McClure, a DFS pro with more than $1M in winnings, gives optimal lineup...

SportsLine's advanced computer model simulated Friday's Bulls-Warriors game 10,000 times