Knicks-Pacers Game 5: Melo, Knicks good enough to survive
New York played poorly in multiple areas and needed help to win Game 5, but they won, and that's all they need in their desperate situation.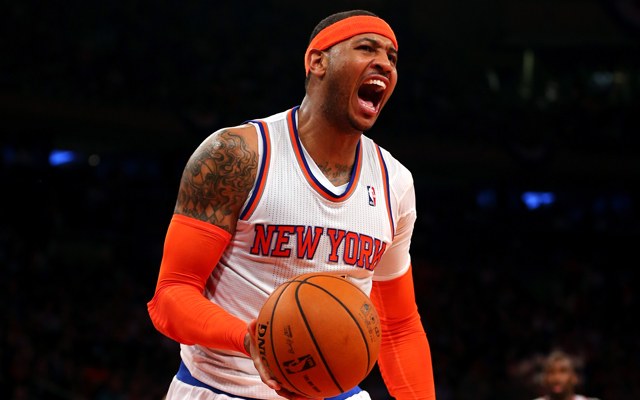 Maybe this is a good Carmelo game in the playoffs. Or at least in this series. 28 points. 28 shots. No assists. Three turnovers. 
Maybe that's as good as it gets for Anthony against a defense as good as the Pacers, even without George Hill and with Roy Hibbert in foul trouble. Maybe he can't have some sort of super-efficient night that dominates in multiple facets of the game. Maybe he can do what he did in Game 5, which was enough to get the win and extend the Knicks' season. 
More on Pacers-Knicks
Related links
Here's the context to those numbers: Melo played a largely smart game. He worked to create shots he can hit. Were a fair number of them in one-on-one situations? Yes. But he can hit those. It's when he's not decisive or when he drives into multiple defenders that you have to question his shot selection. Anthony worked for quality shots, many were contested, but they're shot he can hit. And he hit just shy of 50 percent of them. 
He was aggressive when he should be and was at least cognizant of trying to get the offense involved. The truth is that Anthony didn't have a great offensive game, but he's not going to have too many against this kind of defense. But it's baby steps for the Knicks, who entered the night down 3-1 and now have some momentum with a chance to tie the series on Saturday. 
The Knicks in general were much the same. No one had a great offensive game. It's hard to argue any Knick had a tremendous defensive game, but then, very few had a noticeably poor defensive game, either. It wasn't an impressive game from New York, but it was a desperately necessary one. The Knicks don't get to be picky about how they win at this point. And if it takes George Hill's concussion, Roy Hibbert's foul trouble, a night where they shoot 41 percent and the Pacers miss 14 free throws while the Knicks lose the points in the paint battle,  the second-chance points battle and the rebounding battle? And the same number of assists as their opponent who shot 36 percent from the field? 
They'll take it. There are no style points, not at this stage and not against this team and certainly not down 3-1. There are only wins or losses, survival or vacation, and the Knicks have given themselves some life, even if it doesn't look like much at all. 
Maybe this is the best they get, but for a night, it was good enough.
Is this rock bottom for the Cavaliers because it sure feels like it is

Wade, as he's done so many times in his career, threw it up to LeBron for the thunderous f...

The Warriors coach added there should be no shame in being picked last since everyone's an...
We've got all the scores, highlights and news from all of Saturday's games

The two teams have reportedly not had any substantial discussions to this point

Oladipo may be getting most of the shine, but this second-year big man has been phenomenal...