Knicks-Pacers: Not a throwback game; it's a throwaway game
As people try to pretend the Knicks and Pacers are giving us a throwback game, it's really something that we want to throw away.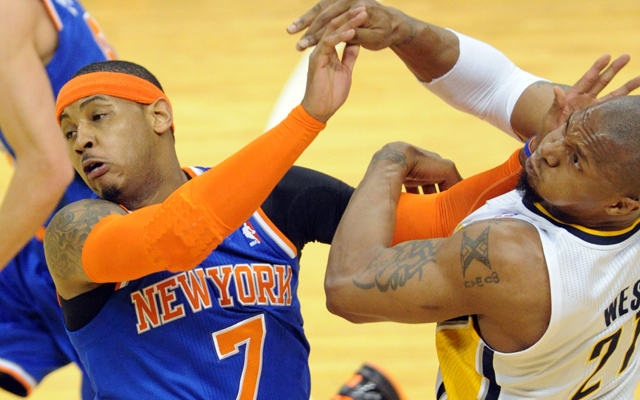 Remember the '90s?
I'm not trying to call out a VH1 show; it's a legitimate question. Do you remember the '90s?
Back in the mid-'90s, the Indiana Pacers and New York Knicks gave us some of the most compelling basketball that we saw during that decade. There was Reggie Miller scoring eight points in nine seconds at Madison Square Garden. There was Reggie Miller throwing the choke sign at Spike Lee as he buried shot after shot to beat the Knicks. There was Patrick Ewing closing out the 1994 Eastern Conference finals with an incredible Game 7 performance of 24 points, 22 rebounds, seven assists and five blocks.
We had Mark Jackson whipping passes from all angles, Anthony Mason shaving cool stuff into his hair, and the gangly Rik Smits trying to beat Patrick Ewing at his own game. And while those games were fairly low scoring, we never saw a struggle-fest like we saw in the first half of Game 3 on Saturday night. The 36-33 halftime score is an abomination, even for this "throwback" type of game. 
The lowest combined first-half total that we got from these two teams during the 1994 and 1995 playoff matchups between both clubs was 76 points in Game 3 of the 1994 Eastern finals. The Knicks led 39-37 at the halftime break in that game. The Pacers ended up winning 88-68 in one of the least compelling games that these teams have ever played against each other in the playoffs. 
The two teams combined to shoot 41.8 percent from the field in that entire game. As of now, the Pacers and Knicks are shooting a combined 34.6 percent. This isn't throwback basketball by any means. It's throwaway basketball from two teams that are failing to play any kind of competent offense. 
In the second half of Saturday's game, we were treated to a monster effort by Roy Hibbert, who put the game away. And the Pacers actually put up a respectable 46 points in the half. However, we never saw any continuity in this game aside from Hibbert treating Tyson Chandler like he was Yi Jianlin's workout chair. Was it good defense or bad offense? Was it determination to stop the other team or incompetence to put the ball into the basket?
What we know is it wasn't harkening back to the glory days between these two franchises when they were battling for mid-'90s supremacy. We shouldn't continue to pretend this is what basketball was like when these two teams played in the '90s. When they played, you had good defense beaten by execution. You didn't have both teams tripping all over themselves. 
The two teams combined for 153 points and 35.1 percent shooting from the field. They combined for 48 free-throw attempts and yet neither team truly approached 90 points. The lowest scoring game of their mid-'90s showdowns was a 160-point, 39.2-percent effort in Game 4 of their 1994 series. It wasn't stellar basketball, but it was also far from the norm of those battles.
Derrick McKey is not walking through that door. Mark Jackson is not walking through that door. John Starks is not walking through that door. But if they did, an old-timers game might be more entertaining than what we chose to sit through on Saturday night. These two teams never got it together to bring the excitement that we've seen from the rest of the second- round series.
Hopefull, they can change course in Game 4 and give us a little more production. 
San Antonio's track record speaks for itself, but they've made a few puzzling moves this o...

The Kings top pick thinks your burgers are trash, California

Popovich added that Trump is 'unfit intellectually, emotionally, and psychologically' to be...
Larry Hartstein turned in a massive profit to close last season and locked in a pick for R...

Too many stars and not enough spots on the upcoming season's All-NBA teams

It appears Philadelphia will continue to be extremely cautious with its potential franchise...