Knicks-Pacers: The value of George Hill shines through in his absence
With George Hill (concussion) sitting out of Game 5 against the New York Knicks, it was obvious why the Indiana Pacers need him to play.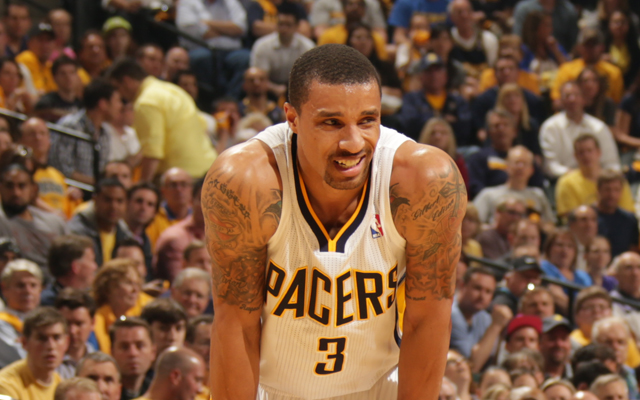 The Indiana Pacers gave out two big contracts at the beginning of free agency last summer. They signed center Roy Hibbert to a four-year, max offer and they signed point guard George Hill to a five-year, $40 million deal. A lot of fans around the NBA seemed perplexed by both moves. Roy Hibbert wasn't a center that tore the rim down and nobody seemed to know who George Hill was.
Hill's been overlooked a lot in his young career. He went to a small college school at Indiana University-Purdue University Indianapolis, and was drafted with the 26th pick in the 2008 draft after four years at IUPUI. 
He had been the backup point guard to Tony Parker in San Antonio, who was traded for Kawhi Leonard. By the end of last season, he had moved into the starting lineup, thanks to an injury to Darren Collison, and then never lost his started job when Collison returned. Hill was a part of the best five-man unit in the NBA last season. This season, he helped the Pacers' starting lineup put up the second best net differential in the NBA. 
After missing Game 5 against the New York Knicks because of a concussion he suffered in Game 4, NBA fans should be plenty aware of who George Hill is and how much he means to this team. It helps that D.J. Augustin struggles to make the basic point guard plays of running an offense. Most of the time when Augustin enters a game, he's asked to maintain and be more of a gunner, which is odd considering he's become such a bad shooter. However, with Hill not playing, the Pacers really needed to be a playmaker and get Indiana into some good scoring opportunities. 
He did no such thing. The Pacers struggled to find a rhythm on offense all night because the only playmaker they had was Paul George. The problem with this is George isn't really consistent when they try to make him the primary playmaker. It's not his fault so much as it's just not a regular thing the Pacers ask him to do. It's such a sporadic role for him that it's hard to just call on it randomly and have it be consistent. Instead, they got Augustin dribbling into areas of the defense he shouldn't venture into and Indiana barely got to 75 points on the night. 
This doesn't happen when George Hill is on the floor. He isn't a great distributor, but he's such a scoring threat off pick-and-rolls that the defense has to give the rest of his teammates space to make sure they're defending the shooter with the ball. The Pacers hit just six perimeter shots in Game 5 against the Knicks. All six of them were 3-pointers, but they couldn't get a single midrange shot to fall. Without Hill on the perimeter, the Pacers were relegated to scoring in the paint and the Knicks seemed prepared to defend that.
If Hill is healthy in Game 6 and doesn't feel any effects of the concussion, he should be able to help the Pacers find their offensive rhythm with him back on the court. He can knock down 3-pointers when the Knicks double Roy Hibbert or David West on the block. He can come off of screens and shred a defense with his midrange jumper. Most importantly, he seems to know how to keep the Pacers in their offensive sets and can direct them when things get a bit hairy. 
People still may be slow to recognize George Hill and his ever improving game, but it was easy to recognize the big hole in the Pacers' attack Thursday night. 
The Blazers guard was a guest on the Sirius XM radio show 'Sway in the Morning'

L.A. reached a three-year jersey ad patch deal with Wish, a San Francisco-based e-commerce...

John Paxson doesn't intend to buy Wade out without some sort of compromise from the 3-time...
Lonzo's signature shoes have a sleek, all-black design and will be available in November

Durant recently apologized for tweets criticizing the Thunder and Billy Donovan

Jackson says he has 'no respect' for Durant after KD created fake Twitter pages