Knicks pick up option on Mike Woodson for 2014-2015
Knicks coach has opened with second-best record in franchise history, forged relationship with franchise icon Carmelo Anthony.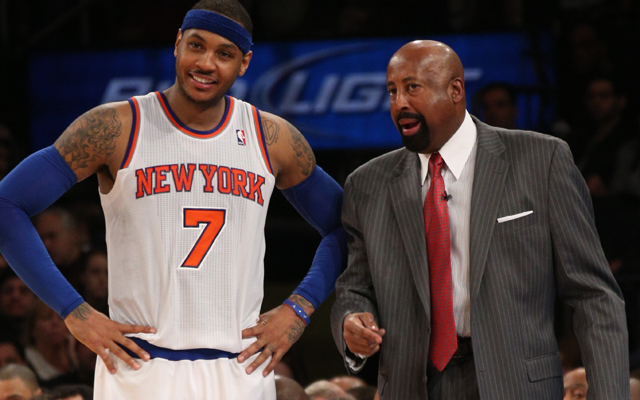 Having one of the best seasons in franchise history and landing the No. 2 seed while making your star player happy has its benefits. The Knicks announced on Monday they've picked up their option on head coach Mike Woodson. Via release: 
NEW YORK, September 30, 2013 – New York Knickerbockers President and General Manager Steve Mills announced today that the team has picked up the option on Head Coach Mike Woodson's contract for the 2014-15 season. Terms of the deal were not disclosed.

Woodson, entering his second full season at the helm of the Knickerbockers after being named interim head coach on Mar. 14, 2012, led the franchise to a 54-28 (.659) mark last season and the franchise's first Atlantic Division crown since 1993-94. He finished third in media balloting for the 2012-13 NBA Coach of the Year award and was named the NBA's Eastern Conference Coach of the Month for April. His .679 (72-34) winning percentage is second-best in franchise history.

"I have long respected Mike and think he has done a remarkable job since becoming the head coach of the Knicks," Mills said. "After spending time with him recently, it is clear that picking up his option is an easy decision."

Woodson guided the Knicks to an 18-6 mark as interim head coach after beginning the 2011-12 season as an assistant coach under Mike D'Antoni. He served six seasons as head coach of the Atlanta Hawks (2004-05 through 2009-10), amassing a 206-286 (.419) record and improving the Hawks win total in each season.
Woodson has done a great job of connecting with the roster and gained the confidence and trust of Carmelo Anthony, the centerpiece of the organization. The defense hasn't excelled as expected under Woodson, but he has helped develop Iman Shumpert among other players into better defensive players. 
The Knicks are unlikely to find a better coach for Carmelo Anthony, as Woodson gives his star player the freedom to make decisions on offense and doesn't chafe at isolation-heavy play. New York is wise to stick with him for another year to try and convince Anthony to return in free agency.
Wade opted in to his $24 million player option earlier this summer

Barkley spoke to the NFL Today crew about the response the president received in his home...

The restricted free agent has a deal in place that will keep him with the Bulls after a st...
James' support continues his trend of social activism on social media

The newly-acquired All-Star thinks the addition of Anthony boosts the Thunder in the NBA's...

The Knicks were asking for the house in discussions for Carmelo Anthony