Knicks' Raymond Felton agrees to plea deal, will avoid jail time
Knicks guard Raymond Felton won't go to jail for his February weapons charge after reaching a plea agreement Monday.
• 1 min read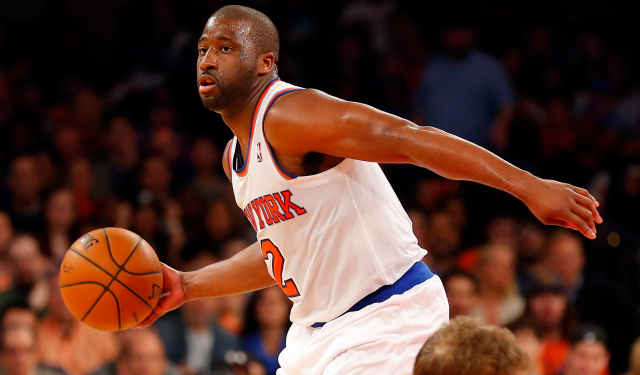 More Offseason Analysis: Coaching changes, news | Free Agency | Draft
New York Knicks guard Raymond Felton has reached an agreement to plead guilty to a lesser weapons charge from a Feb. 25 incident, and he will avoid jail time, as first reported by ESPN's Mike Mazzeo.
Felton was facing felony gun charges. If convicted, he could have spent up to seven years in jail, per Jim Baumbach of Newsday.
As part of his plea deal with prosecutors, Felton will do community service and pay a small fine, attorney Jim Walden said.

…

Walden thanked the Manhattan district attorney "for focusing on the facts, and only the facts."

"This is a deal that means he can continue his career without interruptions," Walden said.
The point guard was in court on Monday and commented briefly afterward, via the Associated Press' Jennifer Peltz:
Felton was in court as the Manhattan district attorney's office outlined the agreement, which would resolve a gun case that arose amid the breakup of his marriage. He's expected to admit June 30 to at least one charge, attempted criminal possession of a weapon -- he won't have to come to court to do so -- and get a $5,000 fine and 500 hours of community service.

"I want to thank the DA for being fair to me in this whole situation," Felton said outside court, also thanking his family, friends and fans "for supporting me and understanding who, the person, I am."
Felton struggled for New York last year, battling injuries and shooting less than 40 percent from the field. Knicks president Phil Jackson reportedly told him that he would be traded in the offseason.
Thomas took to Twitter to let the Celtics know he doesn't want to ruin Pierce's night

The Hall of Famer was a seven-time All-Star with the Celtics, and was MVP of the 1976 Fina...

It's rare to see a legit punch in an NBA fight, but this was definitely one of them
We've got all the scores, highlights and news from an NBA Tuesday

The former Slam Dunk Contest champion will take his talents to Tri-State

Do NBA players have look-a-likes from famous paintings? We found out on the new Arts & Culture...