Knicks' Raymond Felton suffers groin injury, 'felt a pop'
New York point guard could miss up to a month with a groin injury.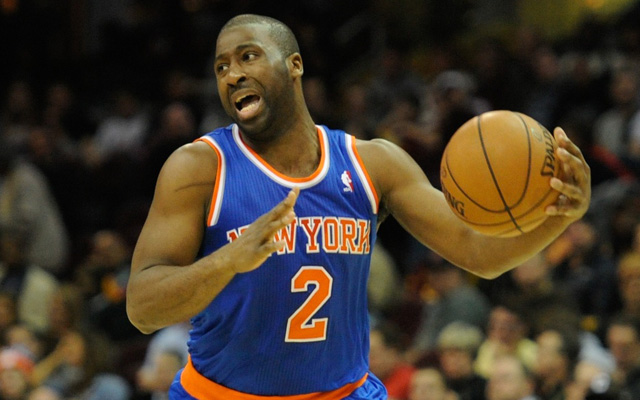 Knicks point guard Raymond Felton suffered an injury in his first game back from a hamstring injury Monday vs. Orlando, and "felt a pop" in his groin. 
Knicks starting point guard Raymond Felton's comeback lasted just one game. Returning from a six-game absence to rest his lingering strained hamstring for Monday night's game against the Magic, the cursed point guard sustained a right groin injury with 3:15 left.

This could be even more serious than the hammy after feeling something "pop." He will undergo tests, likely an MRI exam, on Tuesday.

"Very disappointing,'' Felton said. "Can't catch a break. I'm wishing for the best. I'll get reevaluated. Hopefully they tell me something positive. That's what I'm hoping for right now.''
via Felton: I felt a 'pop' | New York Post.
The Knicks announced Tuesday that Felton is out for the game vs. the Thunder on Wednesday, and will be re-evaluated then for a timetable. 
Felton has had a horrible season along with most of the Knicks, and has been in an out of the lineup with injuries. A severe groin injury could knock him out up to a month, the Post reported. That would be devastating with the Knicks already without Pablo Prigioni and trying to find any way to get back to .500. 
Felton summed up the Knicks' year nicely, actually. "Can't catch a break." 
If Chicago was fleeced -- the prevailing thought -- when dealing its star, so were a lot of...

I.T. is optimistic about returning in time from a hip injury, but it all depends on how things...

Noel, now being represented by Rich Paul of Klutch Sports, reportedly feels he's worth a max...
Steve Kerr opens up about his back issues and more

OJ Mayo, banned from the NBA for positive drug test, is considering playing overseas

The King? 'LeBron, it turns out, is Aquaman,' or so the account via Dwyane Wade's wife goe...