Knicks sign Quentin Richardson after waiving Kurt Thomas
The New York Knicks have signed Quentin Richardson to replace the recently waived Kurt Thomas.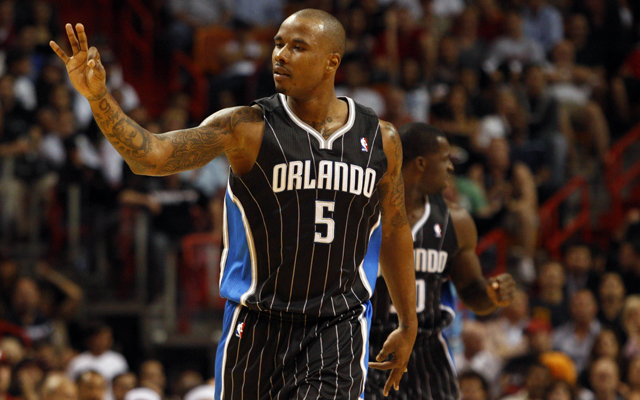 Back on June 28, 2005, the New York Knicks traded Kurt Thomas and Dijon Thompson to the Phoenix Suns for Nate Robinson, Quentin Richardson and future considerations. Nearly eight years later, the Knicks have once again brought in Richardson while saying goodbye to Thomas.
The team announced on Tuesday that it has signed Q for the remainder of the season, three days after waiving Thomas. 
New York Knickerbockers Executive Vice President, Basketball Operations and General Manager Glen Grunwald announced today that the team has signed guard/forward Quentin Richardson for the remainder of the season.

Richardson, 6-6, 220-pounds, holds career averages of 10.3 points, on 39.8-percent shooting from the field and 35.5-percent shooting from three-point range, with 4.7 rebounds and 1.5 assists over 26.5 minutes in 782 games (486 starts) over 12 seasons with the L.A. Clippers, Phoenix, New York, Miami and Orlando. He has appeared in 31 postseason games (21 starts), averaging 8.5 points and 4.3 rebounds over 28.5 minutes.

The Chicago, IL-native, last played in the NBA for Orlando during the 2011-12 season, averaging 4.5 points and 2.6 rebounds over 18 minutes in 48 games (three starts). He returns to New York after spending four seasons with the Knicks (2005-09), averaging 9.7 points and 5.0 rebounds over 28.2 minutes in 241 games (206 starts).
This is kind of a curious move because the Knicks seem to have plenty of players who can play on the perimeter and very few who can give them depth inside. When they waived Thomas, it was expected they'd sign James Singleton to a contract. Instead, they opted to sign Solomon Jones.
A day after starting Jones against the Pacers, they waived him and have now brought in Richardson to probably be the 12th man. Maybe it was just so Kenyon Martin would have someone to talk to?
Either way, welcome back, Q.
With 2K18 out everybody wants to know who has the 10 highest ratings in the game. Here's the...

Durant noted in an interview that all of the criticism in the immediate aftermath hit him...

Want the swagger of LaVar Ball? "NBA 2K18" lets you copy his absurd run from his WWE appea...
Durant apologized for a few tweets in which he criticized OKC and his former coach Billy D...

Lue does not expect the Cavs' big trade to affect the team's starting frontcourt ... at least...

Dwight Howard wants to be a farmer in his future and retire with his donkeys