Knicks' Steve Novak wants in on the NBA 3-point contest
Steve Novak would like his first invite to the 3-point contest.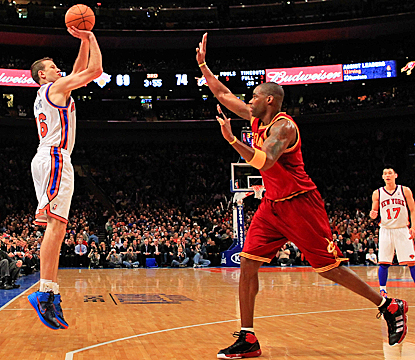 Great closeout, Antawn Jamison.
(Getty Images)
One of the weirdest debates when it comes to the All-Star Weekend is who should and shouldn't be allowed to participate in the 3-point contest.
There are typically 15 to 20 players who are must-sees when it comes to outside shooting, and with only six slots in the competition, we rarely get a satisfactory field of competition. Guys like Anthony Morrow and Steph Curry have only been in the contest once each, despite being ranked ninth and third all-time in NBA 3-point percentage, respectively. JJ Redick has never participated in the 3-point contest, even though he's regarded as the greatest shooter of all-time on that one basketball skills DVD commercial.
And you get the occasional star who isn't quite known as a great shooter, like Paul Pierce (although he shot over 40 percent from 3 the two years he's been in it) and Kevin Durant (career 36.4 percent shooter from downtown).
This year, Steve Novak (fifth all-time in 3-point percentage) is already starting his campaign to be in the competition (via ESPN New York):
"That would be great," he said. "I mean, I think that's something that just happens because of whatever happens in the season. I'd love to, of course, be in it. It's not something where before the game think, 'I need to do this,' but, of course, it would be awesome." 
There are two things I'd love to do to help fix the 3-point contest in the NBA. 
1) I think we should go back to eight participants and have the first round be a guy on each side of the court, like we used to have it. It adds a little bit of pressure to the shooters, you get two at once so it isn't slowing down the competition, and we'd get to have more shooters in the contest.
2) What if we had TWO 3-point contests? The main one can be the regular 3-point contest with the best shooters in the NBA. The secondary one could be the high-volume scorers competing in the Gunner Competition. Guys like Kobe Bryant, Carmelo Anthony, Kevin Durant (more of a gunner than a 3-point specialist), Monta Ellis, and more could get in on that competition. These guys aren't great 3-point shooters compared to the specialists, but seeing any of these guys make a few shots in a row can really amp up the interest in any basketball environment.
Let's get rid of the Shooting Stars contest and get the Gunner contest implemented. There is certainly a better name for it than that, but it's an idea that could take over the weekend.
Davis left the Pelicans' game against the Nuggets in the third quarter

Popovich was upset about an out of bounds call

Wall went 3-for-12 from the field, and had just eight points in the Wizards' loss
Noah was reinstated from his 20-game suspension on Monday, but is yet to play for the Knic...

In his first season with the Cavs, Rose has not played since Nov. 7

Keep it right here for all your Friday NBA scores, updates and highlights