Knicks' tentative starting lineup to include Shumpert, Bargnani
The New York Knicks look like they're going to begin the preseason with Andrea Bargnani and Iman Shumpert in the starting lineup as they play around with options.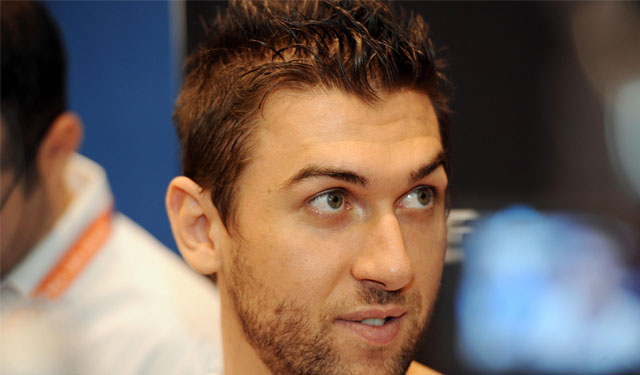 The New York Knicks have a lot of awkward fitting pieces on a team that was so successful at going small last season and playing a perimeter-oriented game that was difficult for many defenses to keep up against. This season, the Knicks are looking to inject newcomer Andrea Bargnani and the oft-injured Amar'e Stoudemire into the rotation because these two guys can be pretty good and they're paid a significant amount of the salary cap. 
According to Al Iannazzone of Newsday, it seems like the Knicks will begin the preseason by going really big with Andrea Bargnani and Iman Shumpert joining Carmelo Anthony, Tyson Chandler, and Raymond Felton in the starting lineup. With the idea of Bargnani primarily being the small forward in this lineup so Anthony can continue to shine at the power forward position, it would give the Knicks a seven-foot tall perimeter option in Bargnani and a tall, physical perimeter defender with Shumpert at the shooting guard position.
It sounds as if Melo, Bargnani and Chandler will be the starting frontline. Woodson wants to see how it looks in games.

— Al Iannazzone (@Al_Iannazzone) October 6, 2013
Woodson also said if he goes that way, he would like to start a bigger two guard alongside Raymond, so probably Shumpert.

— Al Iannazzone (@Al_Iannazzone) October 6, 2013
If the Knicks do go with this starting lineup in preseason to play around with the options and see how Bargnani fits into the old Steve Novak role but doing so in extended minutes, it could pay off in the regular season with a little added continuity with this unit. The Knicks have so many awkward combinations they may have to go with, but getting these guys comfortable together in a way to maximize the talent on their roster is going to be huge moving forward. 
Once J.R. Smith returns from his injury and five-game suspension to begin his season, they'll have the decision to make of whether they want to move their high-volume scoring guard into the starting lineup and turn their bench unit into more of a defensive-minded squad with Metta World Peace and Iman Shumpert or if they want to keep him in the role that earned him the 2013 Sixth Man of the Year award. 
The biggest key to the Knicks' key players getting consistent minutes will be how they fit defensively. Two seasons ago, the Knicks had one of the best defensive teams in the league but saw that dwindle last year to a very average defensive unit. They were able to make it work because of their great offensive efficiency. But can Amar'e Stoudemire get time at the 5 without the Knicks giving away the paint? Will Andrea Bargnani be able to defend small forwards or even stretch-4s for the Knicks? These are the things the Knicks have to iron out with these lineups in the preseason.
The Rockets are gunning for their 10th consecutive win

Victor Oladipo just wants to live his life and enjoy his breakout season with his new team

Keep it right here for all of the news, notes, scores, and highlights from around the Asso...
LeBron has a player option for next season, and is expected to opt out and become a free a...

The Pistons will be looking to snap a five-game losing streak when they host the Celtics on...

Bryant offers some advice for Ball and other rookies about having a sense of urgency in the...