Knicks' trade for Andrea Bargnani goes official
The Knicks' agreed trade to acquire Andrea Bargnani for Marcus Camby and Steve Novak became official Wednesday.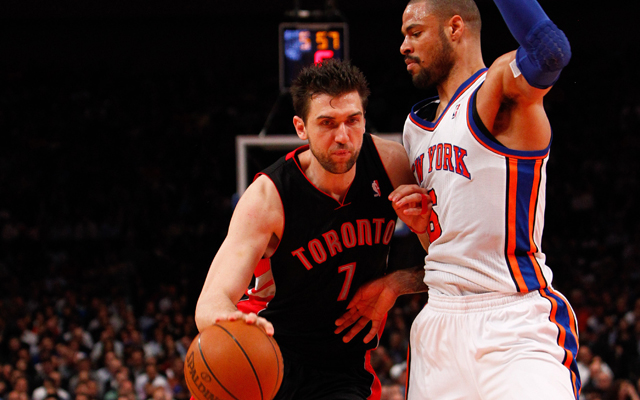 The Knicks officially announced the trade of Marcus Camby and Steve Novak to the Toronto Raptors in exchange for Andrea Bargnani Wednesday. Bargnani, 27, averaged 13 points and four rebounds on 39.9 percent shooting in an injury plagued season last yaer. 
Camby has already reportedly requested a trade or buyout from the Raptors. The Raptors have planned a press conference for Wednesday afternoon to introduce Novak. For more analysis of the trade, read our initial post on the trade or our analysis of what this shows about New York. 
The Warriors rookie threw down an off-the-backboard dunk while up 25 late in the fourth qu...

The third member of the club might come as a surprise

LaVar said Lonzo won't lose again this week, and Marcin Gortat found that pretty funny
Eric Bledsoe is going to be traded at some point and these tweets will explain how it got...

Curry's outburst will cost him some money, but he won't miss any games

A look at the ups and downs for various suitors as Bledsoe has left the team.