Knicks' trade for Bargnani shows flaws in foundation
Even with the Knicks finally a playoff team, there are cracks in the foundation as the club mortgages its future with the trade for Andrea Bargnani.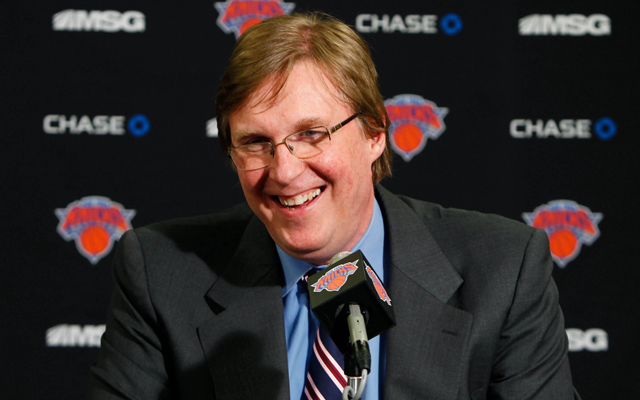 It's not really that the Knicks' trade of Marcus Camby, Steve Novak, a first-round pick and two second-round picks for Raptors forward Andrea Bargnani completed Sunday night is a bad deal. It's not a monstrous miscalculation that sets the franchise back, it's not surrendering good talent for bad, and it does have a certain amount of value when it comes to the team's short-term goal of winning a title, at least hypothetically.
Bargnani gives the Knicks a bench scorer who can spread the floor if he's shooting well, which he hasn't the last few years. He doesn't rebound at an acceptable rate, even for a small forward. He defends exceptionally poorly, especially in help defense situations against the drive. And he has injury concerns.
But if he's shooting well, look out!
But still, Camby wasn't going to contribute at a significant level. Novak was a nonpresence last season, especially in the playoffs. So who cares what they gave up for him? Oh, and the picks? The picks are never going to be worth anyth...
Stop. That's where you have to stop. Because there are a few realities about that first rounder the Knicks surrendered along with the two second rounders you need to understand in the new, post-apocalyptic CBA.
1. Cheap labor is vital. The new CBA lowered the amount teams are spending on average on contracts. But it also lowered the amount teams can spend on players. These rookie-scale contracts are now more valuable than ever. With the addition of things like the D-League and advances in player development, you have a better chance than ever at signing a player late in the first round or in the second and turning them into productive players. Yes, there are more late first-round picks and second-round picks who disappear from the league never to be heard from again than there are Manu Ginobilis and Chandler Parsons, but those guys are what wind up being huge boons to organizations.
On top of that, it's just the value. At the trade deadline, in a year with a horrible, awful draft, no one would move a first-round pick. That's how much value they have. Picks are lifeblood.
2. You have no way to control the future. This, more than anything, is the problem with the approach by the Knicks to constantly leverage their first-round picks. Say LaLa Vasquez decides she wants her husband to relocate to LA or San Francisco. Say Melo has a falling out and decides he wants out. Say the entire roster blows up in a fiery inferno of poor chemistry.
Then you have to rebuild. You're forced into it. You have no choice. And then you're hoping against hope that the pick doesn't land in an unprotected range you need. You can go spend some more money, but will it actually push you closer to a title?
Here's the big thing. Good organizations build solid foundations based on value, character and a structural premise of sustainable success. On and off court, throughout the team and the front office, in practice habits and signing paradigms. But the Knicks, they want to cut corners. They want to throw money at the problem ubiquitously.
Ken Berger of CBSSports.com reported Sunday that the Knicks were spurred to act after the Nets' acquisition of Kevin Garnett and Paul Pierce, which further pushed the Nets' luxury tax implications into the stratosphere.
This is not how you do business in the NBA, effectively. You don't respond to a rival throwing money at a problem in a largely inefficient manner (it's not like the Nets are getting KG and Pierce in 2008) by throwing even more money at a problem in an even less efficient manner. At some point, you're just chasing good money after bad. And in the Knicks' case, they should just put that motto on T-shirts.
Finally, I leave you with this fun bit of NBA history, to illustrate how even when the Knicks are spared a poor decision, worse ones arrive.
1. Last summer, the Knicks and Raptors were both pursuing free agent point guard Steve Nash.
2. The Knicks had had exploratory talks with the Suns about a sign and trade with Phoenix involving Iman Shumpert and Landry Fields, who the Suns were said to covet.
3. To block the Knicks from being able to do so, the Raptors signed Fields to a $20 million deal over four years.
4. Nash eventually went to the Lakers, sticking the Raptors with that deal and locking Bryan Colangelo into a largely doomed roster he couldn't build around.
5. Nash provided an important recruiting tool to get Dwight Howard to agree to a trade to the Lakers.
6. The Lakers' acquiring Howard meant that the Nets could not get Howard, whom they coveted.
7. As a result, the Nets wound up trading for Pierce and Garnett.
8. Nash's struggles with the Lakers, on court and with injuries, helped push Howard away from assuredly re-signing with the Lakers.
9. The Nets' acquisition of Garnett and Pierce led to New York's decision to trade for Andrea Bargnani.
10. So the Raptors' decision to overpay Landry Fields to block a trade that never happened resulted in the Knicks getting Bargnani, the Nets getting Garnett and Pierce, and the Houston Rockets in pole position for Howard.
The NBA. It's fantastic.
LeBron and Steph will be the captains for the 2018 NBA All-Star Game

We've got all the scores, highlights and news for Thursday night

Arron Afflalo was involved in an altercation with Timberwolves big man Nemanja Bjelica on...
Fergie and Canadian rock band The Barenaked Ladies will sing their respective national ant...

Based on Gentry's tongue-in-cheek price, Boston is highly unlikely to acquire the big man

Larry Hartstein is 22-11 in ATS picks for or against the Timberwolves and has a play for T...