Knicks' Tyson Chandler doesn't want to 'waste another season'
New York Knicks' center Tyson Chandler doesn't want to "waste another season" if Phil Jackson is focused on 2015 free agency.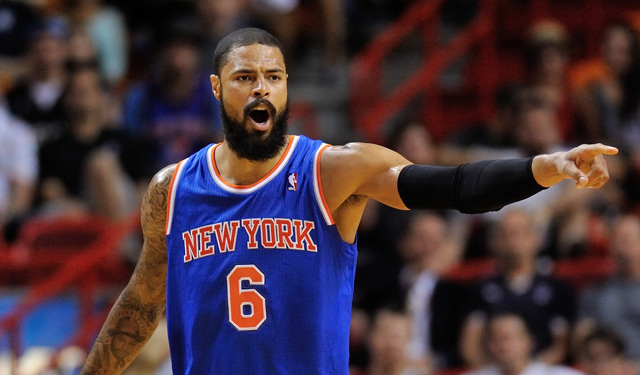 More NBA: Power Rankings | Expert Picks | Latest news & notes
The New York Knicks' season has one more meaningless game left Wednesday night before Phil Jackson gets to start shaping the future of this franchise. They'll have big decisions to make this offseason in regards to how they approach Carmelo Anthony's free agency, their coaching situation with Mike Woodson, and how to take an expensively futile roster and turn it into a title contending roster in a short amount of time. If Jackson is going to take his time turning this roster into a contender, center Tyson Chandler may not want to be involved next season.
Chandler said before Tuesday's game against the Nets he doesn't want to "waste another season" if Jackson's plan for the Knicks was more focused on the future of the team rather than making them good next season. He wants to win now and hopes Jackson isn't targeting 2015 free agency instead of this season. From the New York Post: 
"I definitely don't want to waste another season,'' Chandler said before the Knicks faced the Nets Tuesday at Barclays Center. "I don't want to waste this season. I'm not into wasting seasons. Your time is too short in this league and I want to win a championship, another one. I'm not into wasting seasons.''

Asked if the Jackson's plan was more about the future than present: "I'll cross that bridge when it gets to that point. I hope it's not that situation.

"That's decision isn't going to be in my hands,'' Chandler added.
The Knicks definitely wasted the 2013-14 season. After 54 wins in 2012-13 and a second round playoff appearance, they won't finish with more than 37 wins if they win Wednesday night. Their drop-off stemmed from injuries, poor play by most of the team, awful acquisitions in the summer, and coaching blunders all season long. The present of this future is a mess and due to them not having many first round picks in the next season, they can't just hope to hit it big in the draft. They don't even have their first round pick this June.
Chandler played 55 games for the Knicks this season, averaging 8.7 points and 9.6 rebounds in 30.2 minutes. The 2012 Defensive Player of the Year signed with the Knicks in 2011 after winning a championship with the Dallas Mavericks. He immediately helped the team out in his first two seasons but hasn't had the same impact for a team that could never get it together throughout this campaign. Losing out the 8-seed to an Atlanta Hawks team that was badly injured all season has been its own embarrassment. 
Andrea Bargnani and Amar'e Stoudemire are expected to opt in for the 2014-15 season, and with Carmelo Anthony's salary cap hold due to owning his Bird Rights, the Knicks are already into the luxury tax before they make any moves. They only have $13.3 million committed to the roster in 2015-16, so patience by Jackson and possibly letting Anthony walk would give him ultimate flexibility in adjusting the roster in the future. If that's the plan, perhaps he can get a draft pick back from a contender by trading Chandler this offseason.
Thomas took to Twitter to let the Celtics know he doesn't want to ruin Pierce's night

The Hall of Famer was a seven-time All-Star with the Celtics, and was MVP of the 1976 NBA...

It's rare to see a legit punch in an NBA fight, but this was definitely one of them
We've got all the scores, highlights and news from an NBA Tuesday

The former Slam Dunk Contest champion will take his talents to Tri-State

Do NBA players have look-a-likes from famous paintings? We found out on the new Arts & Culture...