Kobe Bryant can't fully push off Achilles yet
Lakers star continues rehab of torn Achilles tendon, further putting status for opening night in doubt.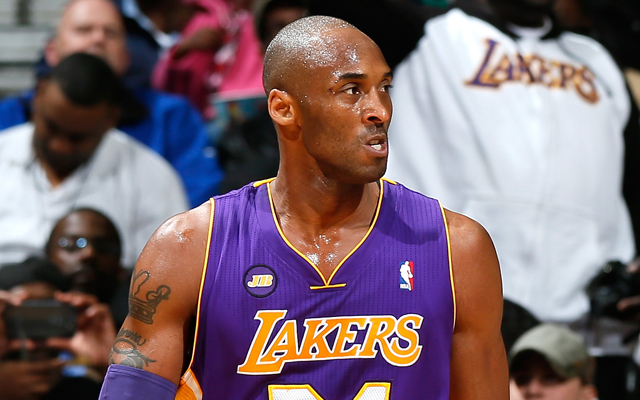 Kobe Bryant told Lakers.com while the team continues its preseason tour of China that he still is unable to push off his surgically repaired ankle. 
1/2 - Asked @kobebryant about his Achilles: "I can't quite push all the way through yet, but it's coming along fine. It feels all right."

— Mike Trudell (@LakersReporter) October 18, 2013
2/2 Kobe-"It gets tight, so we just continue to work w/t modalities & making sure we loosen it up & get it going, but I feel good about it."

— Mike Trudell (@LakersReporter) October 18, 2013
The season opener is 11 days from the publication of this post. That doesn't seem like enough time for him to regain push-off enough to practice fully and play, but at this point, it's more of a "He probably won't play but we'll see." Either way, it'll be close. 
Meanwhile, at least he's not lamenting the difficulty with it. There's no hesitance, just confidence. Bryant will be back, it's just a matter of when. 
The NBA broke its silence with a statement related to the Lakers-Paul George tampering cha...

The Clippers big man thinks LeBron will reunite with the banana boat crew at some point

Have the Clippers reportedly found their next GM?
The NBA stayed to the point in their response to the Greek basketball federation

The Pacers believe the Lakers tampered with Paul George before they traded him

Among the questionable decisions by Jackson was signing Noah to a long-term, lucrative dea...