Kobe Bryant doesn't know if Mike D'Antoni has earned another year
On the Dan Patrick Show, Kobe Bryant said he "didn't know" if Mike D'Antoni had earned another year as the Lakers' coach.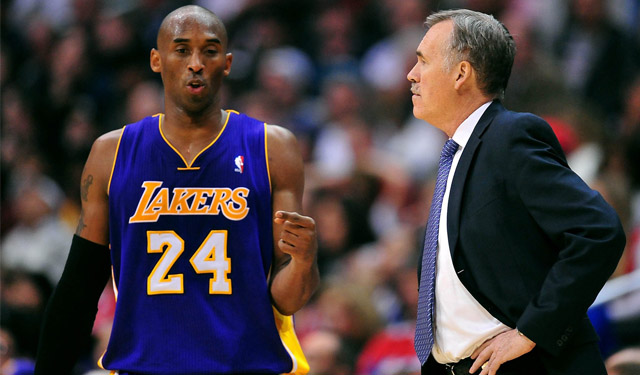 The Los Angeles Lakers have had a tough season. After losing Dwight Howard to the Houston Rockets during this past summer, the Lakers decided to go with lesser players on one-year deals in order to attempt a competitive team while waiting for the return of Kobe Bryant from his Achilles injury and maintaining flexibility for adding big name players in the future. They've had horrible luck with injuries though and it's caused them to have one of the worst records in the NBA.
Even though they've been bad, they've often been more competitive than their roster and lineups would lead you to believe. Has that surprise competitiveness bought coach Mike D'Antoni another year? On the Dan Patrick Show, Bryant was a guest and answered that he didn't know if it had for D'Antoni, but added he hasn't had a fair shake due to the injuries.
"I don't know. It's been tough on him. He's been dealing with so many injuries. I don't know if he's gotten a fair shake."
The Lakers have had a lot of turnover with the roster and the coaching staff the past three years. They've seen a lot of players come and go while also going through Mike Brown as a coach and possibly D'Antoni as well if he can't get a vote of confidence from Jim Buss and Mitch Kupchak. Even though he has dealt with team-killing injuries in his two seasons with the Lakers, he still may not be long for this team.
An interesting tidbit by Kobe in this interview was saying if the team was in playoff position today, he could suit up for the Lakers. If that's true, does it possibly mean the Lakers are tanking with Bryant out for the rest of the season or would Kobe simply suck it up in terms of dealing with injuries and pain like we've seen in the past and figure out a way to contribute?
You can watch the entire interview here:
This stat line is in no way an indication that Ball has turned any kind of corner

All of Simmons' 3-point attempts have come from well beyond half court

The No. 1 overall pick has not played since Oct. 23 due to a shoulder injury
In this week's Power Rankings, the Celtics finally claim the top spot while the Cavs begin...

We've got you covered for all the scores and highlights from Sunday's NBA games

The Cavs superstar compared Kaepernick to Martin Luther King Jr. and Muhammad Ali