Kobe Bryant: Donald Sterling 'hurt our trust in owners as a whole'
Lakers star Kobe Bryant spoke to how deeply Donald Sterling's racist remarks affected NBA players.
• 1 min read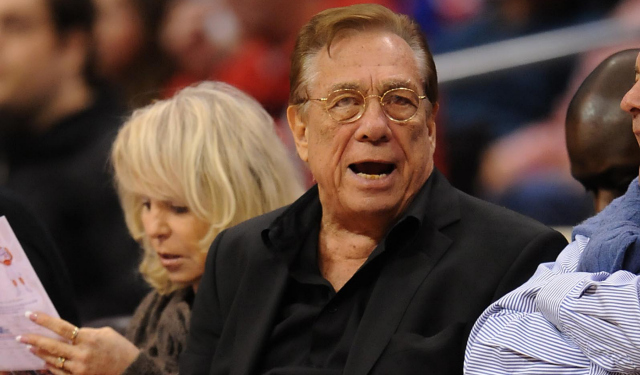 More: Sterling banned for life | Latest updates | NBA news
Kobe Bryant has been out of the spotlight for the most part through the Donald Sterling saga, but the Los Angeles Lakers superstar did tweet that he wouldn't play for him and briefly discuss the disgraced, banned Los Angeles Clippers owner on Jimmy Kimmel Live. In feature about Sterling by ESPN's Ramona Shelburne, Bryant explained how Sterling's mentality and his words affected NBA players:
"Players are far more in tune with owning themselves," Kobe Bryant said. "When [Sterling] said that, it cut deep into the spirit of progression for us. Sterling's point of view was horrible not only for the human race but also for the small world that touches so many globally through this game we call basketball. He stunted equality and black-eyed every owner of every business where the majority of his employees are minorities. He hurt our trust in owners as a whole."
As Shelburne explained, Sterling saw players as "kids he could parade onstage at a party at the Beverly Hills Hotel." 
The thoroughly reported story details not only player reactions, but how the scandal affected Clippers employees and how the sale to Steve Ballmer came together. There are also numerous uncomfortable anecdotes about Sterling, like this: 
In 2012, he hired Marilyn Monroe, Frank Sinatra and Dean Martin impersonators for a party to celebrate the Clippers' playoff berth. The Marilyn impersonator tried and failed to coax Blake Griffin and Chris Paul up on stage with her before seductively serenading then-coach Vinny Del Negro while everyone in the room watched. "It was awkward, to put it nicely," Griffin says. "Vinny ended up biting the bullet for us there."
It's hard to figure out if any of it is surprising anymore, but it's worth reading the whole thing. The latest on Sterling? Oh, he's just reportedly threatening the doctors that diagnosed him as "mentally incapacitated" and the lawyers representing Shelly Sterling.
Jonah Keri talks with NFL and NBA broadcaster Ian Eagle

SportsLine simulated Wednesday's Nuggets-Clippers game 10,000 times

Galin Dragiev has his finger on the pulse of the Lakers and just locked in a play for Wedn...
No more McNuggets allowed in the Barnes household

Leonard has played in only nine games this season for San Antonio

Pierce is set to have his jersey retired on Feb. 11, but there's been a lot of controversy...