Kobe Bryant: I would 'probably' play today if it were a playoff game
Lakers guard Kobe Bryant says if there were a playoff game today, he could 'probably' play, is feeling 'pretty damn good,' and is close to starting full practice with his team.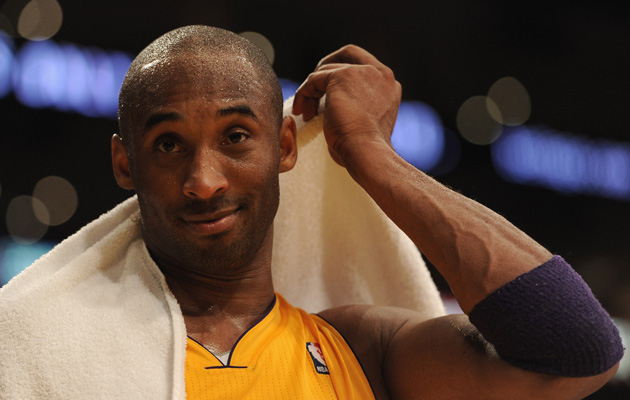 With the Lakers in China, Kobe Bryant told Bleacher Report that if his next game was a playoff or NBA Finals game, he'd be ready. Right now. 
In the land where they worship him for his work ethic, Kobe Bryant said Monday that the long rehabilitation from his Achilles tendon tear has reached the point where "if today was a playoff or NBA Finals [game], could I play? Probably."

Bryant said he intended to test himself in part of Lakers practice and formulate a better idea from it how close he is to starting full practice.

"I feel pretty damn good, so I'm going to get out today and try to move around on the court," he said.
via Kobe Bryant Says He Could Probably Play Today If It Were the Playoffs | Bleacher Report.
Bryant wound up not practicing on Monday in China before the Lakers' preseason game Tuesday vs. the Warriors. But the statement is sure to get headlines, after multiple sources have cast doubt as to whether Bryant will be recovered from his injury in time for opening night Oct. 29. Bryant did do weight-bearing running which is the step before his return to basketball activities. 
It could be Bryant merely working the fans and stoking the fires while in China to boost his brand and build some hype in advance of his return sometime in the next two months. But even as Bryant and Lakers personnel have talked about how far away he is, there remains skepticism that Bryant will miss the opportunity to make headlines with a return on opening night vs. the Clippers. 
Either way, Bryant's getting closer. He misses the opener, he doesn't miss the opener, either way the Black Mamba is making progress and will be back scoring buckets sooner rather than later. 
Cavs star chose to be very secretive when talking to Lakers rookie after Thursday's game

New York announced Porzingis would not return shortly after star forward left game

Teletovic missed the final three months of 2014-15 season with Nets recovering from same i...
Keep it right here for all of the news, notes, scores and highlights from around the leagu...

The NBA's City edition Nike jerseys are bold and very different

The Wolves may be smoke and mirrors, but the Pacers have the look of a team that can hang in...