Kobe Bryant is happy with the Lakers' efforts this summer
Kobe Bryant says he's happy with the effort of the Los Angeles Lakers' organization this summer, even after missing out on key free agents.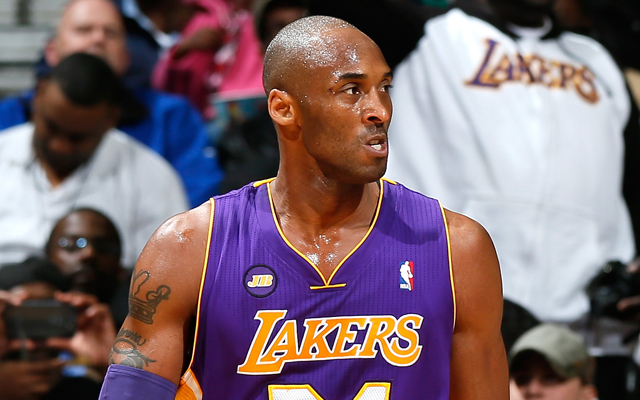 More Offseason Analysis: Coaching changes, news | Free Agency | Draft
Mitch Kupchak wasn't able to woo top free agents like LeBron James or Carmelo Anthony to the Los Angeles Lakers this summer. And there wasn't really an opportunity to trade for Kevin Love as the Minnesota Timberwolves try to decide what their best course of action is. Kupchak did manage to piece together some veterans and bring in a promising young player with the No. 7 pick in the draft.
The Lakers didn't make a big splash, but Kobe Bryant is happy with what they've done this offseason, even though they couldn't bring in Carmelo or re-sign Pau Gasol. He tells ESPN.com's Ramona Shelburne with "100 percent honesty" that he's happy with the effort and efficiency of Kupchak with the pieces he's managed to bring in.
Kobe: "I can sit here and tell you with 100 percent honesty that I'm happy with the effort the organization put forward this summer"

— Ramona Shelburne (@ramonashelburne) July 18, 2014
Kobe "I think Mitch has responded quite efficiently (from missing on Melo/Pau) by picking up some of the pieces he has"

— Ramona Shelburne (@ramonashelburne) July 18, 2014
The Lakers drafted Julius Randle with the seventh pick in the draft, traded for Jeremy Lin, re-signed Nick Young and Jordan Hill, signed Ed Davis to a small contract, and claimed Carlos Boozer off of amnesty waivers to try to bring some well-rounded help to a roster that was devoid of talent throughout last season. They've also re-signed Ryan Kelly, Wesley Johnson, and Xavier Henry. The team is coming off of a 27-win season in which injuries and horrible play destroyed any hope of this team being close to contending for a playoff spot.
It's great that Kobe is being supportive of the organization. In the past, mostly the last time the Lakers were a non-playoff team in 2007, Bryant was openly critical of the front office for not trading Andrew Bynum with the chance of bringing in Jason Kidd. This time around, Bryant is a little more understanding of the rebuilding position the Lakers are in. Bringing in veterans and young talent will make this team much more palatable, even if it looks like making the playoffs will be a struggle for them.
Part of this understanding could also come from the fact that the franchise rewarded Kobe with a two-year, $48.5 million contract even though he had yet to return from his Achilles' injury. They showed confidence in him and perhaps he's returning the favor. Or maybe he's genuinely happy with how they conducted themselves and the moves they made, knowing there is a greater plan in place down the road.
Leonard's relationship with Spurs also reportedly strained because of how injury has been...

San Antonio hasn't missed the playoffs in 20 years, but the road is rocky this season

Last year's MVP finalist has missed all but nine games this season
The design for the patch is still being worked on

The explosive forward and upcoming free agent is having a career year

Cuban said on Dr. J's podcast that losing is Dallas' 'best option'