Kobe Bryant issues cease-and-desist order on mother's auction house
Kobe Bryant sent a cease-and-desist notice to an auction house representing his mom in selling the Lakers star's high school memorabilia.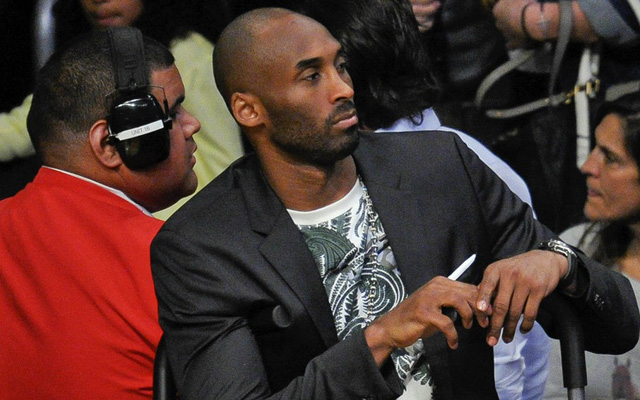 Kobe Bryant filed a cease-and-desist order on the auction house his mother hired to sell his stuff from high school. From the Philadelphia Inquirer: 
... Until Pamela Bryant, Kobe Bryant's mother, wanted to auction it off for an expected $1.5 million so she could use the money to buy a house in Nevada.

That's when the Los Angeles Lakers shooting star (and Lower Merion High School basketball phenomenon) put the brakes on the idea, sending a cease-and-desist letter to the auctioneer, Goldin Auctions LLC of West Berlin.

The 42 items of merchandise, which include several Lower Merion uniforms worn by the player and two 2000 Lakers Championship rings designed for his parents, were to go up for auction in June, each authenticated as genuine by Pamela Bryant.

In a tale of what can happen when adult children move on but leave behind their "treasures," Goldin filed suit asking the judge to clarify ownership of the memorabilia and clear the way for the auction.

"A team-issued championship ring is among the most treasured of all sports collectibles and the opportunity to own one from an active player as significant as Kobe Bryant is rare," company founder Ken Goldin said in an April 30 news release announcing the auction of the memorabilia.

"Normally, items like these can only be viewed in a museum or the Hall of Fame," he said. "We are honored to be able to make these offerings to collectors around the world."

Kobe Bryant's Los Angeles lawyer, Mark Campbell of Loeb & Loeb LLP, was considerably less communicative. "Mr. Bryant's personal property has ended up in the possession of someone who does not lawfully own it," the law firm said in an emailed statement.

"We look forward to resolving this legal matter through the legal system. There will be no further comment at this time."
"... someone who does not lawfully own it." 
Dang. That's his mom, after all. 
Meanwhile, via the AP, the auction house is counter-suing: 
"A New Jersey auction house filed a lawsuit in U.S. District Court in Camden on Thursday for the right to sell the stuff after the NBA star's lawyers wrote the firm telling it to cancel a planned June auction.

 In this case, the 900 mementoes happen to be worth upward of $1.5 million."
Also odd since Bryant has largely put separation between himself and his time in the Philadelphia area. I'm also a fan of the last line of the article.
"Kobe Bryant did not respond to a Twitter request seeking comment."
Anyway, I'd be pretty mad if my mom tried to sell my stuff from high school without my permission, too. Of course, I also might come pick it up at some point since it was 16 years ago. 
Victor Oladipo just wants to live his life and enjoy his breakout season with his new team

Keep it right here for all of the news, notes, scores, and highlights from around the Asso...

LeBron has a player option for next season, and is expected to opt out and become a free a...
The Pistons will be looking to snap a five-game losing streak when they host the Celtics on...

Bryant offers some advice for Ball and other rookies about having a sense of urgency in the...

Burks has stepped up in a big way for the Jazz, averaging over 20 points per game since Rodney...