Kobe Bryant: Michael Jordan's message to him was 'Go get Karl'
After passing Michael Jordan on the all-time scoring list, Kobe Bryant was encouraged to keep getting buckets.
• 1 min read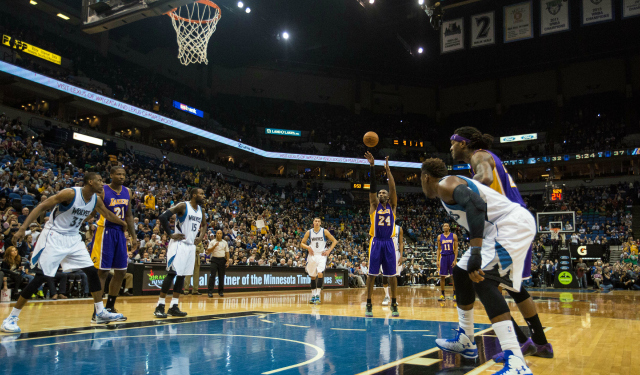 Kobe Bryant sat out of the Los Angeles Lakers' Christmas Day loss to the Chicago Bulls, but he still spoke to reporters about what it meant to pass Michael Jordan on the all-time scoring list a couple of weeks ago. Bryant said that Jordan told him to go after the next man on the list, Karl Malone, via the Chicago Tribune's K.C. Johnson:
Bryant said Jordan's message to him was simple.

"'Go get Karl,' " Bryant said. "The competitor never stops."

Then Bryant grew reflective.

"It was more of a thankful feeling to Michael and the players who came before because I've learned so much from them," he said. "And I don't say that lightly. I've literally just stolen (stuff) from them — like spin moves and pull-ups. It's not me passing these players. It's us.
Malone scored 36,928 points in his 19-year career, which is second all-time behind Kareem Abdul-Jabbar. Bryant is sitting at 32,365. Let's say Bryant keeps averaging his current mark of 25.4 points per game, even though he and Lakers head coach Byron Scott have talked about reducing his minutes load lately. That would require Bryant to play 180 more regular-season games in order to catch Malone. His contract expires at the end of the 2015-2016 season, so it seems highly unlikely he'll get there.
It's just nice to know that Jordan reached out to Bryant, though, beyond releasing a statement to the Associated Press. The two legends will be forever linked, long after Bryant steps away from the game.
We have all the scores, top plays and news from Tuesday's NBA games

Irving has not played since March 11

Hornacek, who has one year left on his deal, is unlikely to make it to the end of his cont...
Griffin was traded to the Pistons in a blockbuster deal ahead of the trade deadline

Billups, who starred for the Pistons from 2002-08, currently works for ESPN

Adam Thompson has his finger on the pulse of the NBA and just locked in a play for Tuesday