Kobe Bryant modeled his fadeaway jumper after a cheetah tail
Kobe Bryant changed his jumper to emulate a cheetah's tail when it hunts. Because, of course.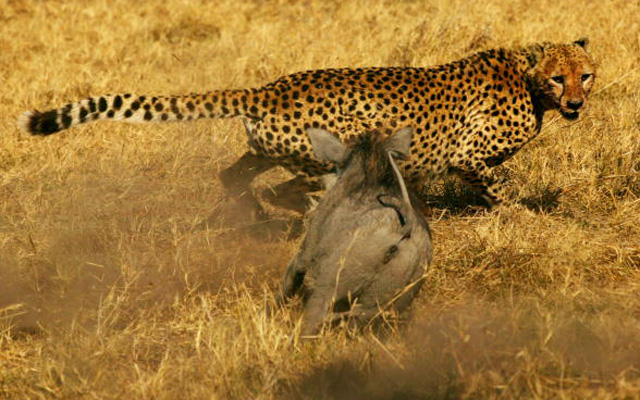 In an extended and fascinating three-person Q&A with the New York Times, Los Angeles Lakers star Kobe Bryant spoke with both the Times and Arianna Huffington of the Huffington Post about variety of topics, most of which involves what makes he and Huffington tick. The whole thing is worth a read, but really, the best part is at the end. 
PG: As a lens for understanding each other?

KB: Exactly. I'll give you an example. When you watch me shoot my fadeaway jumper, you'll notice my leg is always extended. I had problems making that shot in the past. It's tough. So one day I'm watching the Discovery Channel and see a cheetah hunting. When the cheetah runs, its tail always gives it balance, even if it's cutting a sharp angle. And that's when I was like: My leg could be the tail, right?

AH: That's amazing.

KB: Inspiration surrounds us.
For Arianna Huffington and Kobe Bryant: First, Success. Then Sleep. - NYTimes.com.
Yup, Kobe's a cheetah. 
And here's the thing. He's not lying. Check it out.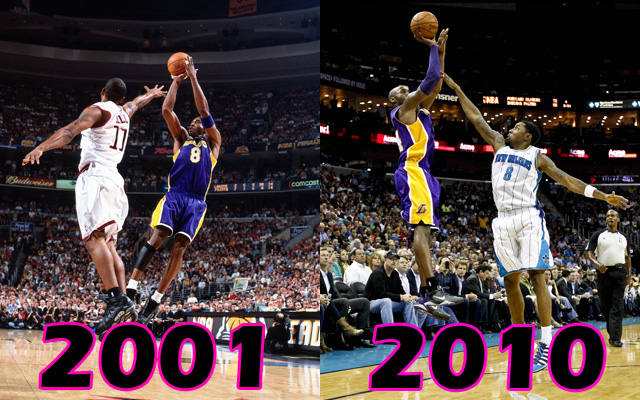 Or, to put it in more literal terms:
It actually does make sense, when you think about the dynamics of balance and maintaining a core. It's just cool that Bryant takes these kinds of inspirations from all over. Or that it "surrounds us" or whatever.
Bryant's new Showtime documentary Muse premieres this fall.
Trail Blazers guards Damian Lillard and C.J. McCollum have been pushing for Anthony to join...

Anthony reportedly gave the Knicks an expanded list of teams he'd waive his no-trade clause...

The Suns will also receive a second-round pick in the deal
Kerr noted Warriors are deeper than the NBA championship team of last season

The Dubs will make a decision as a team on visiting the White House, but Steph would vote...

Wolves are an up-and-coming NBA squad, but this region knows heartache too well