Kobe Bryant 'not a happy camper' over Lakers opening losses
Kobe Bryant is angry that the Lakers have not played well in their first two games.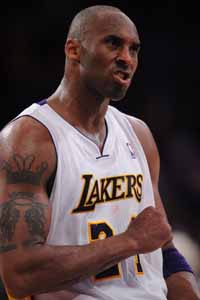 Kobe Bryant is not a happy guy. (Getty 
The Lakers lost on Wednesday night.
Again.
A trade for Steve Nash, a trade for Dwight Howard, a better bench, the star power the franchise's legacy demands -- and back-to-back losses to start the season. A double-digit, worse-than-the-final-score-shows loss to Portland Wednesday night and the cough-muffled grumblings from the opening night loss to Dallas have erupted into full-on rabble-rabbles.
And it's not just from fans.
Kobe Bryant told reporters after the Blazers loss: 
"It's going to be a little edgy because I'm not a very happy camper around here right now," Lakers guard Kobe Bryant said, setting the tone for what the atmosphere around the team is going to be in the coming days. "Some things we have to shore up, and we gotta make sure we keep a sense of urgency."
via Lakers vets' sense of urgency kicking in - Los Angeles Lakers Blog - ESPN Los Angeles.
Things that go well when Bryant get into this kind of attitude: Internet sports blog hits. The end.
It's good to keep the urgency up, but Bryant can push too hard sometimes. He can be too demanding and he has a huge number of guys on this team who aren't used to his approach, many of who have their own history of success and no interest in being lectured to, even by the Black Mamba. They know they have issues.
These things will work themselves out; the Lakers are too talented not to have them solved. The question is how long it will take and how deep a hole will the Lakers have dug by the time they do figure it out.
You know, more than 0-2.
Our advanced computer model simulated Saturday's Thunder-Cavs game 10,000 times

The Jazz are reportedly looking into trading Rodney Hood before the Feb. 8 NBA Trade Deadl...

The Cavaliers are ready to reset everything if they have to. Their interest in Lou Williams...
It sounds like the Cavaliers are going to be active before the NBA trade deadline on Feb....

We've got all the scores, highlights and news for Friday night

George Hill, who is unhappy in Sacramento, could be a solution to Cleveland's backcourt si...