Kobe Bryant out three more weeks with knee pain, swelling
Kobe Bryant recently said he'd be back before the All-Star Game. But he'll be cutting it close.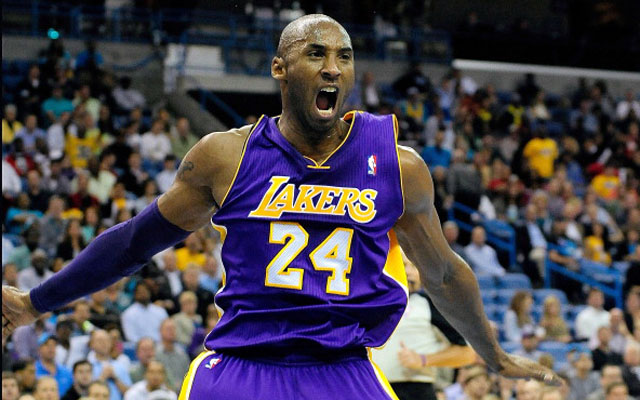 UPDATE: The Lakers confirmed the report Tuesday night, with the following release: 
Lakers guard Kobe Bryant was examined prior to tonight's game by team physician Dr. Steve Lombardo and still has pain and swelling in his left knee. Bryant will continue with a program of non-weight bearing exercise, consisting mostly of working out on a stationary bike. He will be examined again in approximately three weeks.
Kobe Bryant recently said he'd be back in time for the All-Star Game, which is why he wanted to be taken out of it and let someone more "deserving" in. 
Kobe's coming back from a fractured lateral tibial plateau, a fancy way to say the bone connecting your shin and knee, and was set to miss six weeks. 
The injury happened Dec. 19, and six weeks would be this upcoming Thursday, Jan. 30. But it appears unlikely Kobe is going to make it back to meet that, according to Kevin Ding of Bleacher Report:
Bryant's level of discomfort is such that his visit with Lakers doctor Steve Lombardo on Tuesday evening before the Lakers face the Indiana Pacers will not even include an MRI or any other diagnostic procedure to judge the bone's healing, according to a team source. Bryant is expected to miss at least two more weeks, perhaps even another month.

[...]

Bryant said Sunday in New York that it is "absolutely killing" him not to be medically cleared for anything beyond conditioning work on a bike. He has been reluctant to answer questions directly about his knee in a series of interview sessions over the past week, saying vaguely he'll be re-evaluated "in February." But what he and his fans hoped would be an inspirational comeback season from the torn left Achilles tendon he suffered April 12 has eroded into a whole lot of Bryant sitting around, wincing at the end of the bench at Lakers losses and wearing colorless clothes that represent his basketball lifelessness.
The All-Star Game is in just a little over two weeks, so unless Kobe were able to return on the fast end of this, the whole discussion about him being voted a starter could be moot. 
Obviously, Kobe wants to be back. If he could play through this, I'm sure he would. But coming off the Achilles injury and now this, at 35 years old, he has to be prudent. The Lakers are suffering and falling well out of position to have any hope of a playoff push, and it's doubtful Kobe can save that. 
But he wants to be on the floor, he wants to be competing. He will be eventually, but he just might have to wait a little longer for it.
We've got all the scores, highlights and news from all of Sunday's games

The Rockets beat the Warriors 116-108 on Saturday night

The Cavaliers gave up 148 points in their loss Saturday afternoon to the Thunder
Blatt made the comment before coaching in the All-Star Game in Turkey

Is this rock bottom for the Cavaliers because it sure feels like it is

Wade, as he's done so many times in his career, threw it up to LeBron for the thunderous f...