Kobe Bryant says doubters motivate him to come back in best condition
Lakers guard also says he doesn't know when he'll return, but it's not going to be anytime soon.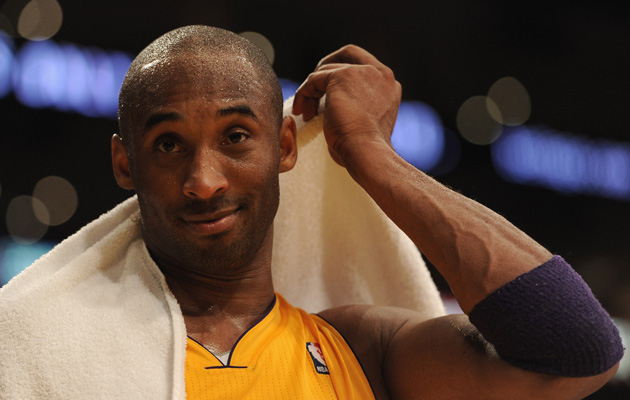 In a Q&A with Yahoo Sports, Lakers guard Kobe Bryant detailed how his desire to prove his critics wrong is actually making him take it slower with his rehab so that he comes back right. 
Q: Your naysayers don't expect you to come back the same because of your Achilles injury. What should we expect when you return?

Bryant: "Personally? I'm going to be the way I've always been. Maybe a little better. It's always interesting, it's motivating to hear people doubt me. The same guys put the nail in my coffin six years ago. They're still trying."

Q: How do you find a good medium between your competitiveness and also being cautious in rehabbing?

Bryant: "It's all in the same bucket. I'm really competitive. To come back at anything less than to play exceptional basketball is not really smart, then I'm not going to be at my top level and that makes the critics right. That [stuff] isn't going to happen."
via Kobe Bryant: Doubters continue to motivate me - Yahoo Sports.
Classic Kobe right there. He just knows how to motivate himself. He needs to come back in the best condition possible so he can play at a high level and show all his critics they're wrong, and that's actuall motivating him to be more patient with a frustrating process. That's what puts Bryant in that same frame with Michael Jordan, that drive to make a point to anyone who's doubted him. You also have to love that Bryant never says "I don't pay attention to that stuff." 
Bryant also talked about how it could still be weeks before he returns.
Q: What's the latest on your Achilles rehabilitation?

Bryant: "This week I'm pushing it again and measuring it and seeing how it does. I pushed it really hard [Monday], and it feels pretty good today. So I will push it again [Tuesday] night then measure it [Wednesday] morning and continue to go from there."

Q: What do you mean by you will "measure" it?

Bryant: "I'll push it. I will increase the workload a lot and the next day you see how the ankle joint [feels]. At the end of the day it's really the ankle joint. The tendon is fine, but the ankle joint from being immobilized so much is naturally stiff. So it's about breaking through that and increasing that flexibility. If it recovers fine the next day you can push it and keep on going."

Q: Lakers coach Mike D'Antoni said that once you begin practicing, you could need two to three weeks of practice before you begin playing in games. Is that correct?

Bryant: "That sounds about right. We haven't had that conversation, but that sounds about right."

Q: Do you have any wish date to return to action?

Bryant: "I don't. I don't. How can I? I don't even know if I will be able to push it hard tomorrow. I have no idea."

Q: Would it be safe to say you'll be back by December?

Bryant: "Dude, I don't know. I don't give a [expletive] what people believe. When I'm ready, I will play."
via Kobe Bryant: Doubters continue to motivate me - Yahoo Sports.
Bryant missed the Lakers' season opening win over the Clippers. It was thought over the summer he could make it back in time for the start of the regular season. Considering he hasn't started practicing yet, the assumption that he'd be back before December looks more in doubt. 
The fact that it's not the tendon and just the ankle comes with its own problems. The tendon still being sore would be much more of a concern, but if the ankle's weak he could tweak it, suffer a setback, and miss more time. Hence all the patience being exercised by the Lakers and Bryant. 
For now, Lakers fans need to stop looking forward to Bryant's return. He'll be back, but will stil be a while. 
The third member of the club might come as a surprise

LaVar said Lonzo won't lose again this week, and Marcin Gortat found that pretty funny

Eric Bledsoe is going to be traded at some point and these tweets will explain how it got...
Curry's outburst will cost him some money, but he won't miss any games

A look at the ups and downs for various suitors as Bledsoe has left the team.

Mike McClure, a DFS pro with more than $1M in winnings, gives optimal DraftKings and FanDuel...