Kobe Bryant says he's still planning to retire in two years
Kobe Bryant says he still will "probably" retire in two years. Really?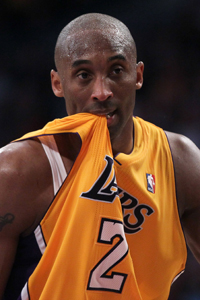 Would Kobe really walk away in two years?
(Getty Images)
Would Kobe Bryant really walk away from the NBA in just two years?
That's what he said he'd do when he was a rookie and in a Yahoo! Sports interview, that's what he's saying he's still going to do at age 33.
"Still probably accurate," Kobe said about retiring at 35. "I've been playing for 17 years now, so next year will be my 17th and then, when I'm 35, it will be my 18th year in the league. I mean that's a long time to be playing. It will be the last year in my contract, so I don't know. I don't know if I'll play any longer than that."
Probably isn't definitely and even if he said definitely, I don't know how much I'd believe him.
Kobe is fifth all-time in points scored (29,484). He's just under 2,000 points from Wilt Chamberlain for fourth and fewer than 3,000 from Michael Jordan for third. (He's about 9,000 behind Kareem Abdul-Jabbar for No. 1.)
Kobe has scored at least 2,000 points seven of the past 11 years. Meaning he could pass Jordan if he only plays two more seasons, but he couldn't miss many games and he'd have to perform at his normal extremely high level. If he were to climb as high as No. 2 (Karl Malone, 36,928) or No. 1, he's looking at at least four more seasons. And that's four very good seasons.
Also, Kobe has five rings and his appetite for a sixth is insatiable. With a Laker team that's going to remain in the conversation for a while longer, if he doesn't have that sixth ring, he's probably going to keep coming back for it.
So would he really walk away in two years? He might say so, but when it comes down to it and he's 35 and still feels good, I'll believe he's retiring when I see it. And even then, I wouldn't put a comeback out of the question, even if he says he wouldn't do it. This is Bean we're talking about here. The guy only knows basketball. He lives for the competition, the big shots, the huge moments, the pressure. All that gone in two years?
Kobe probably doesn't want to extend deep into his late 30s, but with milestones and rings to chase, I doubt he's done at 35.
The Trail Blazers almost traded for Charles Barkley, but when they didn't, it put them in debt...

The self-proclaimed ASG snub Williams may be bitter about Butler requesting to sit out Sun...

The commish said they were overly conservative with the decision this year, but that should...
A dive into the NBA history books for every result from every NBA All-Star Game

James set the tone during practice that this year's All-Star Game was going to be differen...

The 76ers center handled 'mismatches' like they were nothing