Kobe Bryant says the Lakers are 'old as s---'
Following a Lakers loss, the excuses tend to flow. After their 103-99 loss Tuesday to the Sixers, the top buzzword was "energy," or a lack thereof. What's the deal with that, Kobe?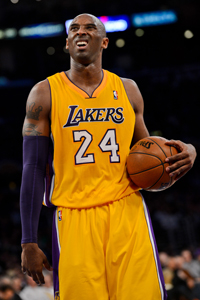 "What's the score?" 
(Getty Images)
Following a Lakers loss, the excuses tend to flow. Sometimes it's chemistry. Sometimes it's health. Sometimes it's just an off night.
After the Lakers' 103-99 loss Tuesday to the Sixers, the top buzzword was "energy," or a lack thereof. What's the deal with that, Kobe Bryant? Via ESPN LA:
"Cause we're old as s—," said the 34-year-old Bryant when asked why a lack of energy has been a problem for L.A. all season. "What do you want? We just got to figure out how to play when we don't have that energy. We got to change things up a little bit defensively. We got to figure out what we want to do offensively, figure out what we want to do on nights when we don't have those legs or have that energy."
The Lakers definitely aren't young. Steve Nash is 38. Kobe is 34. Pau Gasol is 32. Metta World Peace is 33. Dwight Howard is 27, but with his recent back issues, looks like he's 37.
(I can't get one sequence out of my head that kind of summarized the night: Gasol went to the rim in the fourth and was stuffed by Spencer Hawes. After Howard gathered the rebound and was fouled, Gasol grabbed the ball and tried a flatfooted dunk after the whistle -- and he was stuffed by the rim.)
More Kobe:
"You just saw an old damn team," Bryant continued. "I don't know how else to put it to you. We're just slow. You saw a team over there that was just younger and just had fresher legs and just played with more energy, and we were just stuck in the mud. I think individually we all have to figure out how to get ourselves ready each and every game to have a high level of energy. That's all that is."
It's a good reason, but you know who doesn't care? The San Antonio Spurs. They've been "old as shit" for five years now and they just keep on winning. Or the Knicks, who are 21-10 despite having the oldest roster in NBA history.
You know who else doesn't care? The Thunder and Clippers, who with their youth and athleticism find new ways to tear up opponents nightly.
The Lakers have to find the balance between energy and playing smart. They're actually better when they slow down (8-2 when they use 95 or fewer possessions) so the answer isn't necessarily to try to start fast-breaking or something. Energy and effort are things you should be able to control, but even if you lack those things because of age, you've got to fall back on something else, like wisdom or whatever.
The Lakers aren't getting any younger. Though Bryant kind of seems like he is, as he's leading the league in scoring despite his age. But with his teammates, who are both aging as well as beat up -- Gasol, Nash and Howard -- the Lakers have the look of a team playing to its age. Now they're charged with trying to find a balance between playing with a little more youthful enthusiasm and when that's missing, some of that veteran Spurs-ish savvy.
Gasol acknowledged that the Lakers aren't very athletic, but said they have to use their experience better.
"We're not the most athletic team in the league; we know that," Gasol said. "But we are experienced and we should create some energy for ourselves out there, and I think it starts by us talking to each other, by communicating, by letting our team really know that we're there [on defense], and that will create some energy that we need on that end of the floor."
The Lakers have done a whole lot of talking about what they need to do and what they should be doing this season. Plain and simple: They need to play better. And win more games. Whether it's not happening because of age, energy, chemistry or whatever, it doesn't really matter.
T.J. Warren gets paid big money by the Suns in a four-year deal

Melo didn't hold back on his feelings about President Donald Trump and urges for help in Puerto...

The Wizards star says the NFL won't change until important players like Brady and Rodgers speak...
Popovich spoke at length about sports, race, culture, and politics during Spurs media day on...

Carmelo Anthony finds the idea of coming off the bench very funny

Several teams spoke about Trump's recent comments about protests and the Warriors' White House...