Kobe Bryant sounds confident Pau Gasol will return to the Lakers
Kobe Bryant is apparently pretty confident that Pau Gasol will be a part of the Los Angeles Lakers next season.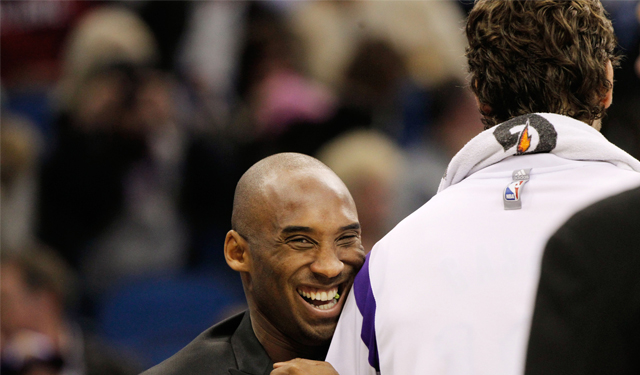 The Los Angeles Lakers' roster is in flux for the next two offseasons as the team prepares to make a major run at a superstar or two to rebuild the core of the Lakers and give Kobe Bryant a pretty solid send-off when he's done playing. Bryant is signed for the next two seasons at $24.25 million per season and Steve Nash is under contract for next year at $9.7 million. After that, they don't have many contracts on the register and none of those are for big money.
Pau Gasol's $19 million expiring deal will give the Lakers a lot of cap space this offseason but could some of it be used to bring back the Spanish big man? Bryant seems confident that it will happen. LakersNation.com tells us Ric Bucher talked to Kobe and on a scale of one to 10, Bryant put it at an eight that Gasol would be back with the Lakers.
During Thursday night's game against the Los Angeles Clippers, Bleacher Report's Ric Bucher stated on the TNT broadcast that he spoke with Kobe Bryant prior to the game and asked him who he could "envision" on next year's team.

Bucher reported that Bryant included Pau Gasol's name, which the reporter said "surprised" him. Bucher further pressed Bryant, asking how confident the five-time champion is on a scale of one to 10, that Gasol will be with the Los Angeles Lakers next season, to which Bryant responded "eight."
It's mostly been assumed that because of Gasol's lack of harmony with Mike D'Antoni and his system, coupled with the fact that the Lakers are looking toward the future with their signings, Gasol would likely look for new employment with another team. If he's willing to take a one-year deal to stick with the Lakers at a reasonable price, it would make sense for him to return. However, the Lakers can't overvalue Gasol and they certainly can't give him a deal past the summer of 2015 when it's expected they'll target Kevin Love as a free agent.
Gasol is the leading scorer for the Lakers this season at 17.5 points per game but considering this is shaping up to be the worst season in Los Angeles Lakers history, I'm not sure that's a feather in his cap. He's played in 52 of the 62 games and certainly is playing much better than what we saw last year as he battled some serious injuries to stay on the court. 
Jordan Bell had himself a night against Portland

The younger Ball brothers are heading to BC Prienai, but that could spell trouble

Not many games, but still plenty of action and intrigue Monday in the Association
SportsLine's advanced computer model simulated Tuesday night's Lakers-Knicks game 10,000 t...

The Reno Aces are concerned about the new WNBA franchise stealing their thunder

Hinkie parted ways with the 76ers in 2016 after drastically changing the direction of the...