Kobe Bryant studying how Paul Pierce adjusted his game as a veteran
Los Angeles Lakers star Kobe Bryant is looking to follow old rival Paul Pierce's example.
• 2 min read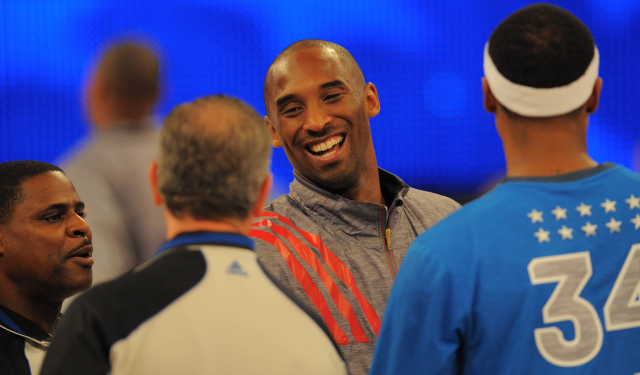 Kobe Bryant is looking to follow an old rival's example. Preparing to make his comeback from a knee injury, the Los Angeles Lakers star has been studying how Paul Pierce adjusted his game as his athleticism faded away.
From Sports Illustrated's Chris Ballard:
In preparing for this season, Bryant told friends that the player he is analyzing, as an example of adjusting your game as you get older, is fellow 36-year-old Paul Pierce. This is part of his goal to become "more efficient" on the court.

Said Bryant, "I'm going to max [my last two years] out too, to do whatever I can. Leave no stone unturned, no water left in the sponge."
In Ballard's revealing feature on Bryant, the 36-year-old shooting guard made it clear that he knows he won't be the same player as he was before. He is doing everything he can, though, to remain as effective.
"There are certain things that my body can't do that I used to be able to do," Bryant admits. "And you have to be able to deal with those. First you have to be able to figure out what those are. Last year when I came back, I was trying to figure out what changed. And that's a very hard conversation to have." Bryant pauses. "So when I hear the pundits and people talk, saying, 'Well, he won't be what he was.' Know what? You're right! I won't be. But just because something evolves, it doesn't make it any less better than it was before."

…

"I'll be sharper," he says. "Much sharper. Much more efficient in areas. I'll be limited in terms of what you see me do, versus a couple years ago. But very, very methodical, very, very purposeful."
So let's talk about Pierce, who will be 37 in October. He does not have the quickness that he used to, and he does not dunk on anybody anymore. With the Brooklyn Nets last year, he averaged 13.5 points per game on 45 percent shooting, making 38 percent of his 3-point attempts. The previous season in Boston, Pierce averaged 18.6 points, 6.3 rebounds and 4.8 assists per game, which were just about the same numbers as he put up in the Celtics' title-winning season five years earlier.
The crafty Pierce has adapted about as well as anyone. He has an arsenal of little head-fakes and ball-fakes, and he knows how to get his shot off, even if he can't create as much space as he used to. Bryant has a similar sort of game, and we'd already seen him change his style before the knee trouble, though it's worth noting he was still surprising people with his hops two years ago.
Bryant has been taking his rehab extremely seriously, and he's going to come into next season with a point to prove. No one knows exactly what he's capable of doing, especially considering the relative lack of talent on the Lakers roster. Pierce went to Brooklyn -- and now Washington -- so he would no longer have to carry a huge load. In Los Angeles, Bryant is still going to be the No. 1 option. It'll be interesting to see how this plays out.
The King acknowledged the mega trade late on Tuesday, calling Kyrie a 'special talent/guy'

Winger reportedly accepted the job after being offered last week

Irving isn't only switching teams, but also numbers
Irving made it clear he wanted to start camp on a different team, and the Cavs made it hap...

James, and the other principals, will be judged by what comes next for the Cavaliers and C...

A look at who came out ahead after Tuesday's megadeal swaps the point guards on the East's...