Kobe Bryant talks during Lakers game about knee procedure, team
Los Angeles Lakers star Kobe Bryant spoke during the Lakers' game against the Denver Nuggets about his recent knee procedure and the team.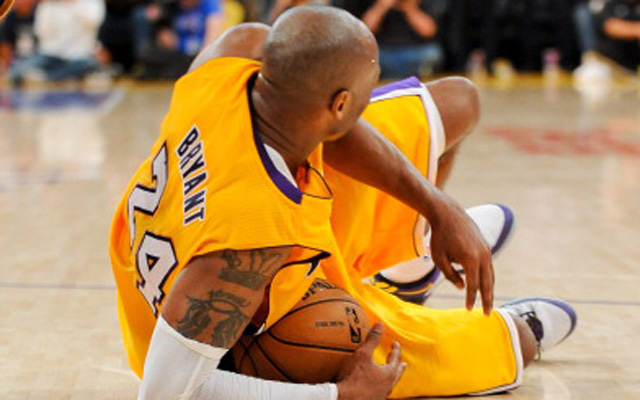 As of right now, Kobe Bryant doesn't have a lot that he can do during basketball games. He isn't really that close to being cleared to return to the court and help the Los Angeles Lakers get ready for the 2013-14 season. He can continue his rehab work on the recovering Achilles' tendon, but nothing involving playing with the team has been cleared yet for him. Until then, all he can continue to do is provide updates when he feels it's necessary and do his work.
During the preseason game Tuesday night against the Denver Nuggets, Kobe spoke to Mike Trudell of Lakers.com during the telecast and gave updates on the knee procedure he had done in Germany, where his body currently stands, and some thoughts on his teammates. From Lakers.com: 
On Germany and his progress:
Just making sure I take care of everything. I haven't had this much time off in a very, very long time. So, when I come back, I want to make sure I'm 100 percent.

On whether or not this treatment is routine for him:
I do it every now and then. This year, I haven't had a chance to run so I don't know how the knee is gonna hold up—if it's gonna be sore or what. So instead of taking that chance in the middle of the season trying to disappear to Germany then, I figure I do it right now.

On Judy Seto:
She basically—I had her captive all summer. She just went with me everywhere I went. But I feel good, she's obviously done an incredible job and I feel very fortunate to be where I'm at this stage.

On how the process/rehabilitation has been going all summer:
It's going well. I feel good. Obviously I feel like I'm ahead of schedule. It's about getting that range of motion back where I feel like I can run comfortably and the last stage is really the explosiveness and the muscle endurance andthat'll come.

On what he's seen from his teammates so far:
I'm pleased with it. I like the way that we're playing, particularly on the defensive end, I feel like we're playing with a lot of energy. I think now it's just about measuring the game the right way and being able to see what's in front of you and make those adjustments on the fly, and that'll come.

On Pau Gasol:
He'll be in his natural (position) and that'll be a playmaker and facilitator and the scorer when there's no double teams and he'll be able to control the pace of the game a lot more, which is what he's more comfortable doing.

On the next step in his rehabilitation:
Just keep grinding. Just keep working. Working hard every single day and I gotta get in shape too, because Ive been sitting on my butt now for a while so I gotta get up and get moving.
The fact that he can't do his normal training routine during the offseason because of his injury makes the trip to Germany for his knee procedure make perfect sense. Once he is back to being on the court in a full capacity, he needs the rest of his body, including a knee that has given him trouble in the past, to be able to handle the workload and not fail him at any point when he's playing again. Since he can't train the knee all that much, getting the procedure done gives him a bit of an upper hand in that capacity.
McCollum hurled a clever insult at the French forward

Hosts Bill Reiter and Reid Forgrave are joined by Blazers guard CJ McCollum

Check back throughout the night for the latest updates from Monday's NBA games
Garnett has worked with Maker and says he is reminded of himself

It might be a good time to place a bet on the Boston Celtics

SportsLine's Mike McClure, a DFS pro with more than $1M in winnings, gives optimal lineup...