Kobe Bryant targets season opener, won't play in 2016 Olympics
Kobe Bryant said he's still trying to return for the 2013-14 Lakers season opener and that he won't play in the 2016 Olympics.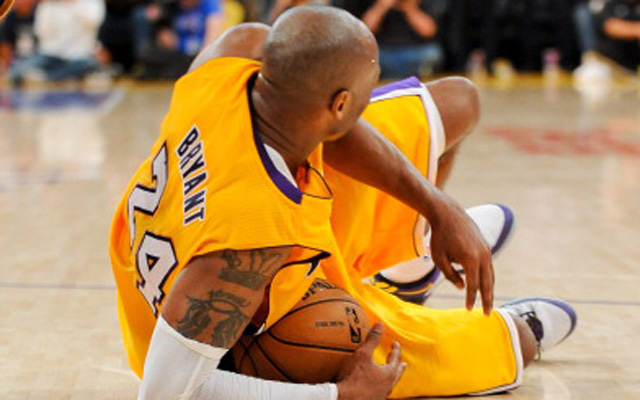 Lakers star Kobe Bryant sat down with ESPN LA recently for a wide-ranging interview about Phil Jackson's recent comments about him, his rehab process with the Achilles tendon surgery that he was forced to have in April and the future of his career. Most notably, Bryant said he's targeting the Lakers' 2013-14 season opener as his return from the injury: 
"I hope so," Bryant said in a sit-down interview with ESPNLosAngeles.com on Monday. "That's the challenge. With the tendon, there's really only but so much you can do. There's a certain amount of time that they deem necessary for the tendon to heal where you don't overstretch it and now you never get that spring back.

"So, you just have to be patient, let the tendon heal and then when that moment comes when they say, 'OK, we can take off the regulator so to speak and now it's on you to train as hard as you can to get back to where you want to be,' that's going to be a good day."
via Kobe Bryant of Los Angeles Lakers aims for opener, wants 'last word' with Dwight Howard - ESPN Los Angeles.
It would certainly be impressive for Bryant to return that early, given how serious the injury was and with an expected timeline of six-to-nine months. But that's pretty much the Kobe Bryant that everyone knows and loves, ready to take on any challenge and exceed it. But Bryant will also be careful with the injury. He's not ready to hang up the kicks yet, and to recover from an injury of this severity so late in his career, he has to be patient and let everything get where it needs to be. 
That said, count on Bryant being ready for opening night. This is the Mamba, after all. 
Bryant also spoke on the issue of the 2016 Olympics in Rio and whether the return of Coach K would push him towards a possible return. Not so much. 
Kobe on if Coach K can convince him to come back for 2016 Olympics with him: "No, that's not going to happen. I don't see that happening."

— Dave McMenamin (@mcten) June 4, 2013
It's time for someone else to carry the torch, and with three more summers to go, Bryant is likely to have walked away from the game by that point. It would be a cool story, but probably not the best thing for the team. We could be looking at a very young Team USA in 2016 with Dwyane Wade unlikely to play, LeBron James wavering significantly and talk of Dwight Howard not being a favorite of team organizers. We'll have to see how it plays out. 
Kevin Durant says he doesn't agree with what President Donald Trump agrees with

Evaluating where the future Hall of Famer might land up if he is freed from Chicago's rebuilding...

Adam Silver said his piece with the schedule out; we address that and what the slate looks...
The Hawks and Sharecare reportedly agreed to terms on a five-year deal

A look at the context of the schedule and who plays who when, and how far they travel during...

Durant took on rapper Lil Dicky and actually might have lost