Kobe Bryant thinks the under-23 Olympics idea is 'stupid'
Kobe Bryant disses idea from commissioner David Stern regarding the Olympics.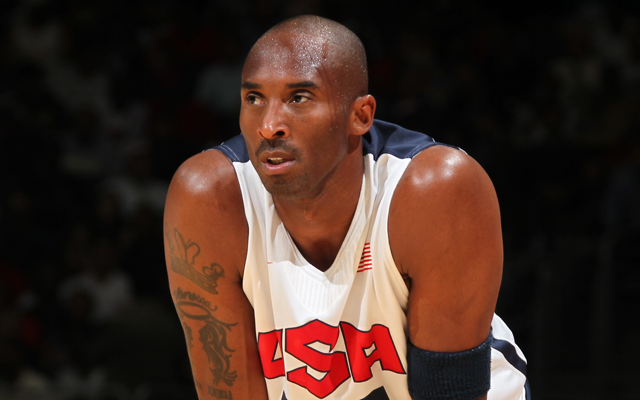 Kobe Bryant thinks the under-23 Olympics idea is "stupid."
(Getty Images)
Kobe Bryant, Olympic Gold Medalist and hopeful two-time Olympic Gold Medalist at age 33, thinks older is better. Bryant told ESPN.com that David Stern's idea of an under-23 rule restricting Team USA to players 23-years-of-age or younger is "stupd." 
That Kobe, always mincing words. 
Tell us how you really feel, Mamba. 
"Its a stupid idea," Bryant told local reporters at the reception to welcome them to Manchester in advance of Thursday nights exhibition game here against Team Great Britain. "It should be a players choice." Asked how much he and his Team USA teammates have talked about Stern's proposal since getting together in Vegas on July 5, Bryant said: "Our discussion is this: Basically, it's just a dumb idea and we discuss it that way. ... We just discuss it like that and kind of voice our opinions through you media guys."
via Kobe Bryant calls David Sterns Olympic age limit concept a stupid idea - ESPN.
There's not much in the way of nuance there.
Bryant's reticence is understandable. Personal circumstances or surgery held him out of international competition until 2007, and this is only his third foray into international ball. He's clearly one of the best players on the planet, still, and the veteran experience he brings will be a big part of Team USA's seemingly unavoidable success. 
But as I argued here, there are a lot of reasons for players Bryant's age to step aside, and very few of them have to do with injuries, the biggest reason NBA owners want the rule installed. In truth, nothing Bryant does willl ever make an impact because of the lasting legacy of the Dream Team. And despite Bryant's comments to the contrary, this team will never be judged the same way. 
But there you have it, from the horse's mouth. The idea is "stupid." Something tells me there are a lot of mainstream columnists who feel the same way. 
An Alabama native, Barkley campaigned for Jones leading up to Tuesday's election

Kerr knew just what to say after Jones pulled off an upset in Alabama

The future of the league was on display on Tuesday night
Check in throughout the night for the latest news and highlights from NBA games

The Lakers legend details why the NBA popularity will continue to rise

SportsLine's Mike McClure, a DFS pro with more than $1M in winnings, gives optimal lineup...