Kobe Bryant to start against Mavericks
Los Angeles Lakers star Kobe Bryant says he will start against Dallas Mavericks in season opener.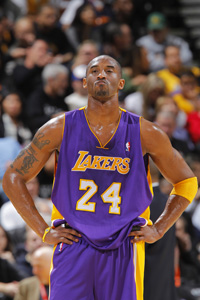 Bryant's foot is hurt. (Getty Images)
Oh, my stars and garters. He's going to play! It's a miracle!
After news leaked that he was unsure if he would play in the season opener because of a foot injury, Kobe Bryant is going to start, just like he always was, against the Mavericks. The news was broken by ... Kobe himself on Facebook. He's too cool for Twitter.
Feeling good enough to play tonight! I'll use my strong midsoles for added cushion on the foot for more protection.

Looking forward to this journey as I'm sure you are.

It's Go Time.

Mamba out
Bryant had said earlier today he was 85 percent good to go. 
The Lakers face the Mavericks at home and the full super-roster of Dwight Howard, Steve Nash, Bryant and Pau Gasol will be on the floor. Oh, and Metta World Peace gets to come, too.
Larry Hartstein has his finger on the pulse of Kings basketball and just released a play for...

One reported proposal has seeds 7-10 playing for the final two spots in each conference

The longtime Maverick says he's disappointed by all the negative news surrounding his beloved...
Larry Hartstein has nailed 17 of his last 22 NBA against the spread picks and locked in a play...

The NBA is reportedly entertaining the notion of a play-in tournament for the postseason

Cuban has had multiple interviews since the investigative report on the organization surfaced...