Kobe Bryant tops all Western guards in first All-Star ballot returns
LeBron James is the top overall vote-getter in the first All-Star ballot returns with Kevin Durant, Paul George and ... Kobe Bryant right behind.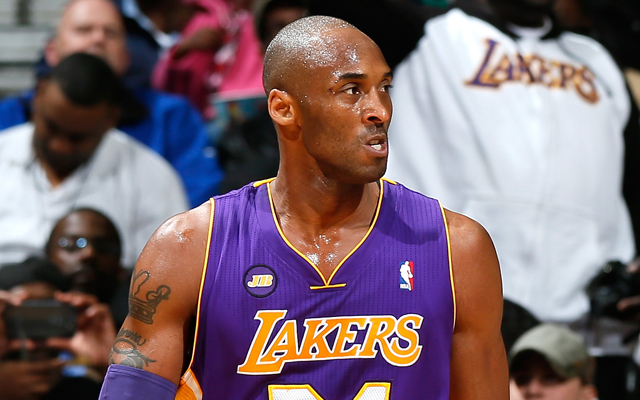 Just remember, this is your fault. 
The first All-Star voting returns are in, and there aren't really any surprises at the top. LeBron James is the top vote-getter with 609,336 with Kevin Durant close behind with 607,407. After that is where things start to get weird. 
Kobe Bryant , who has played a grand total of two games this season, is third overall with 501,215 votes. Paul George is fourth with 489,335, which puts him ahead of Carmelo Anthony (424,211), who of course plays in the league's biggest and brightest market. 
The current starters in the West are Bryant and Chris Paul (393,313) in the backcourt and Durant, Dwight Howard (295,120) and Blake Griffin (292,925) in the frontcourt. 
In the East, it's Dwyane Wade (396,279) and Kyrie Irving (365,712) in the backcourt with LeBron, George and Anthony in the frontcourt. 
Fans of course vote for the NBA's All-Star starters using all sorts of different options like their website, Twitter, Instagram, Facebook and carrier pigeon. 
The interesting battles to watch going forward really only exist in that if Durant can overtake LeBron for the overall top vote-getter, if Kevin Love can catch Griffin for a frontcourt spot in the West, and if Stephen Curry could catch Paul to be Kobe's backcourt buddy. Outside of that, the starters are pretty much set, it seems. 
Here are the full voting returns:
EAST
Frontcourt:
1. LeBron James (Mia) 609,336
2. Paul George (Ind) 489,335
3. Carmelo Anthony (NYK) 424,211
4. Roy Hibbert (Ind) 208,369
5. Chris Bosh (Mia) 156,364
6. Kevin Garnett (BKN) 102,825
7. Joakim Noah (Chi) 75,229
8. Jeff Green (Bos) 55,912
9. Luol Deng (Chi) 54,340
10. Tyson Chandler (NYK) 51,738
11. Andre Drummond (Det) 51,351
12. Carlos Boozer (Chi) 48,745
13. Paul Pierce (BKN) 45,145
14. Brook Lopez (BKN) 37,153
15. Josh Smith (Det) 32,025
Backcourt
1. Dwyane Wade (Mia) 396,279
2. Kyrie Irving (Cle) 365,712
3. Derrick Rose (Chi) 272,410
4. John Wall (Was) 124,851
5. Ray Allen (Mia) 99,464
6. Rajon Rondo (Bos) 80,889
7. Deron Williams (BKN) 44,282
8. George Hill (Ind) 42,536
9. Evan Turner (Phi) 33,605
10. Mario Chalmers (Mia) 32,996
WEST
Frontcourt
1. Kevin Durant (OKC) 607,407
2. Dwight Howard (Hou) 295,120
3. Blake Griffin (LAC) 292,925
4. Kevin Love (Min) 275,506
5. Tim Duncan (SA) 217,271
6. Anthony Davis (NO) 149,579
7. Pau Gasol (LAL) 133,199
8. LaMarcus Aldridge (Por) 132,818
9. Andre Iguodala (GS) 109,745
10. Dirk Nowitzki (Dal) 89,093
11. Chandler Parsons (Hou) 77,179
12. DeMarcus Cousins (Sac) 60,923
13. David Lee (GS) 60,015
14. Kawhi Leonard (SA) 55,023
15. Omer Asik (Hou) 53,827
Backcourt
1. Kobe Bryant (LAL) 501,215
2. Chris Paul (LAC) 393,313
3. Stephen Curry (GS) 327,449
4. Jeremy Lin (Hou) 240,404
5. James Harden (Hou) 198,667
6. Russell Westbrook (OKC) 149,065
7. Tony Parker (SA) 112,423
8. Ricky Rubio (Min) 63,096
9. Steve Nash (LAL) 60,782
10. Damian Lillard (Por) 55,847
Among the questionable decisions by Jackson was signing Noah to a long-term, lucrative dea...

This Akron store doesn't want their hometown hero to leave again

Milwaukee's star did not get cleared to play for his national team due to a painful knee i...
Ball, the second overall pick in the NBA Draft, is receiving even more hype

Rap mogul supports the vision the outspoken father has for his brand and sons

Deciding who to watch on League Pass can be difficult, but these rankings promise to help