Kobe Bryant unfollows Dwight Howard on Twitter, says 'vamos'
Using Instagram, Kobe Bryant reacts to Dwight Howard's decision.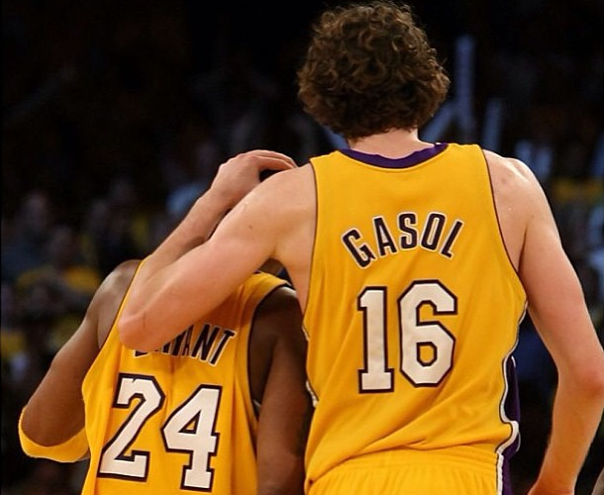 Taking to Instagram to react to Dwight Howard's decision to sign with the Rockets, Kobe Bryant expressed himself simply.
With a picture of him and Pau Gasol together, Kobe hashtagged it "#vamos #juntos #lakercorazon #vino."
(For the uninitiated, vamos translates to "let's go," juntos translates to "stick together," Laker corazon means "Laker heart" and "vino" is just what he calls himself.)
Kobe also unfollowed Howard on Twitter. Power move.
Kobe was said to be an integral part to the Lakers efforts to keep Howard, even having a separate meeting with him where he told him he could teach him how to be a champion.
In the end, Kobe and the Lakers' efforts weren't enough as Howard bolted for Houston to team up with James Harden. Bryant, 34, is left coming off an Achilles injury and will return to a depleted roster that really only has Gasol and him, along with 40-year-old Steve Nash, 33-year-old Metta World Peace and, well, that's pretty much it.
The Lakers are going to need a whole lot of corazon next season. 
Boston will try to close the series out on the road, while Milwaukee will attempt to force...

Curry, who hasn't played since March 23, missed the entire first-round series against the...

Keeping track of all the injury updates for every NBA playoff series
LeBron's block on Oladipo should have been called goaltending, according to the Last Two Minute...

Arizona's DeAndre Ayton goes No. 1 over Duke's Marvin Bagley in Reid Forgrave's latest mock...

The order of the NBA Draft is pretty much set, with only the lottery left to decide how it...