Kobe Bryant update: Surgeon 'optimistic' for recovery
Kobe Bryant's surgeon is 'optimistic' about Bryant's recovery following ACL surgery, and trainer Tim Grover says minutes didn't contribute to the injury.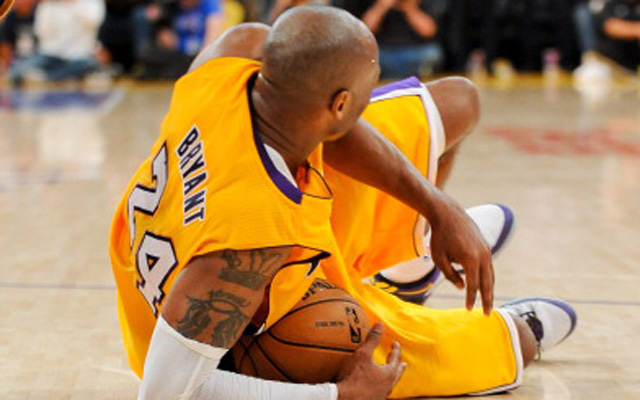 The surgeon who repaired Kobe Bryant's torn Achilles' tendon is "optimistic" about his recovery prospects. From the LA Times: 
The doctor who performed surgery on Kobe Bryant's ruptured Achilles' tendon said he expects the Lakers star to be back playing at some point next season.

Speaking exclusively to The Times, Dr. Neal ElAttrache said Sunday that Bryant's competitive drive and mental toughness will give him an edge in recovering from an injury that figures to sideline him at least six to nine months.

"I can point to all of the scientific aspects of the repair, but just as important if not more important is, who is that Achilles attached to?" said ElAttrache, who performed the hour-long surgery Saturday.  "In this situation, it's attached to Kobe Bryant, who has figured out a way to get through some injuries that would ordinarily be career-threatening. Some of the things he's had go on with him have ended guys' careers in the NBA.

"He's figured out a way to get through it and be one of the best players in the NBA."
via Exclusive: Doctor who performed Kobe Bryant's surgery is optimistic - latimes.com.
The surgery always looks good immediately after; it's only later when complications arrive. But everything is on the right path, and Bryant seems resolved to attack this process as only he can. He has no other choice. 
Grover told our own Ken Berger of CBSSports.com this weekend: 
Grover spoke with Bryant on Friday night after the injury, and as of then, he said his star pupil was all in -- "fully on board" with waging this fight. But the road will be long, slow and grueling. Full recovery will not take kindly to Bryant's insistence on pushing through pain, ignoring normal human timetables and doing the impossible. His sewn-together tendon will be a lot tougher than those who allowed him to push himself to such incredible limits over these past few weeks.

"We'll have to see," Grover said. "It's not an easy process. It's not an impossible process; it's been done many times before, and I believe he can be as well as he was before. But it's definitely a long, tedious process."
via When Kobe Bryant gives the word, the long road back will begin - CBSSports.com.
But if anyone's ready for the long and tedious process, it's Bryant. 
Shaquille O'Neal and Sir Charles cruise to an easy victory over some hot peppers

If Charlotte indeed moves its star guard, there's going to be more people impacted than just...

Trading Kemba Walker (and dumping salary in the process) may be harder than expected for C...
Our advanced computer model simulated Friday's Jazz-Knicks game 10,000 times

There was some explosive guard play this week in the NBA's rookie class

With half of the season in the books, there were some clear favorites for our Midseason Aw...