Kobe Bryant voted most popular NBA player by 2013 rookie class
A poll of the 2013 rookie class showed Kobe Bryant retook the No. 1 spot as their most popular NBA player.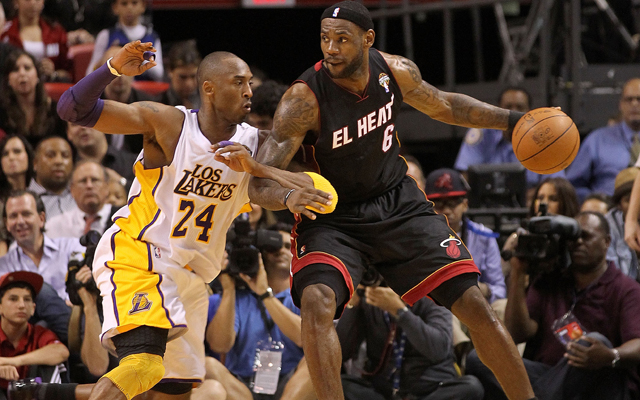 The 2013-2014 rookie class was interviewed at the Rookie Transition Program on a variety of subjects, including who their favorite player is. It appears the age of Kobe Bryant continues and that LeBron James has not yet become the icon of a generation. After James won in 2012, the Black Mamba made a comeback this year. 
1: Kobe Bryant, L.A. Lakers -- 21.2 percent

2: LeBron James, Miami -- 15.2 percent

T-3rd: Kevin Durant, Oklahoma City & Dirk Nowitzki, Dallas -- 12.1 percent

T-5th: Kevin Garnett, Brooklyn & Chris Paul, L.A. Clippers -- 9.1 percent

Others receiving votes: Carmelo Anthony, New York; Vince Carter, Dallas; Tim Duncan, San Antonio; James Harden, Houston; Kawhi Leonard, San Antonio; Steve Nash, L.A. Lakers; Dwyane Wade, Miami

Worth noting: LeBron won his second straight championship, but couldn't retain his spot as the rookies' favorite player. As Kobe nears the end of his career, he still gets love from the kids.
via Magic's Oladipo among rookie favorites to stand out in 2013-14 | NBA.com.
That's not a small gap, either. Real quick? Where did Dirk Nowitzki come from on this? Seems kind of random. Not that he's not a fantastic player, just seems like a random choice to be tied for third. How aout James Harden receiving votes? 
Bryant's populaity is proving to be incredibly durable, even as the Lakers have slipped from contention. It's also interesting that Bryant retook the lead over James despite the fact that James has been more active in actig as a mentor, and hasn't had the same level of complaints as Bryant has about being a teammate. Sometimes, it just comes down to what you remember. 
Also worth noting? Huge downtick in the number of University of Kentucky rookies this season from 2012. James has strong ties to coach Calipari and the UK program. 
KCP can't leave California for 25 days due to the terms of his pleading guilty to a misdemeanor...

Keep it right here for all of the news, notes, scores and highlights from around the leagu...

LeBron tried to keep what he said a secret, but one mic on the court picked it up
SportsLine's Mike McClure, a DFS pro with more than $1M in winnings, gives optimal lineup...

'It's not just about me, it's for the next crew as well,' LeBron said

Kobe the rookie had no fear facing off against Michael Jordan the legend. Then he gave up a...