Kobe Bryant, World Peace among top 10 disliked athletes
Los Angeles Lakers Kobe Bryant and Metta World Peace both scored in the bottom 10 of notable athletes for popularity, according to the N-score.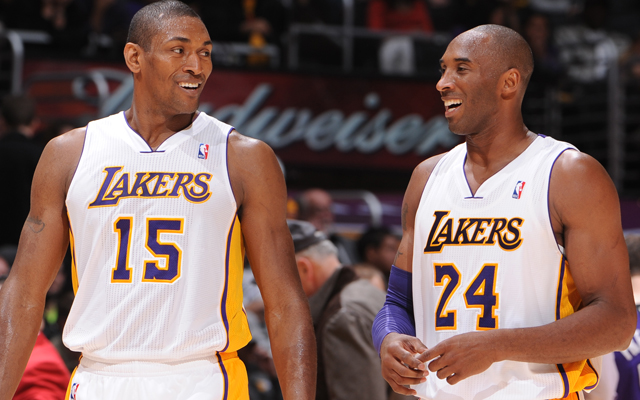 It's funny, because we are disliked and yet play for the most popular team on the planet.
(Getty Images)
Los Angeles Lakers Kobe Bryant and Metta World Peace made the list of the top 10 most-disliked athletes in the world, according to the N-score measure taken yearly by Nielsen and E-Poll, via Forbes.com. The poll is limited to active athletes. 
MWP came in with just 21 percent of the public's support, landing sixth on the list. Bryant came in with 27 percent, at No. 10. They are the only two NBA players on the list, which is headlined by Manti Te'o and Lance Armstrong, along with such athletes as Tiger Woods, Michael Vick, Kurt Busch, and Bears quarterback Jay Cutler. 
Notably absent from the list? 
James spent the past two years on the list after "The Decision," but after his public image makeover, which featured a new publicist, an NBA title run, and an Olympic gold medal, it would appear the public has forgiven him for his numerous PR gaffes. Winning helps, as well. 
You wonder if MWP's status on the list is influenced by the vicious elbow he laid on James Harden last season. World Peace was suspended one game his week for a jab to Brandon Knight in Detroit. 
Durant, who joined the Warriors, says that Capela, the league's most efficient player, has...

Jason Kidd's firing gets the celebratory balloon treatment on Milwaukee's Twitter page

Milwaukee has parted ways with its coach in the middle of his fourth season
Larry Hartstein has his finger on the pulse of the Clippers and locked in a play for Monday's...

Our advanced computer model simulated Monday's Heat-Rockets game 10,000 times

Portland is among a few teams that have reportedly tried to engage in talks for the Clippers...