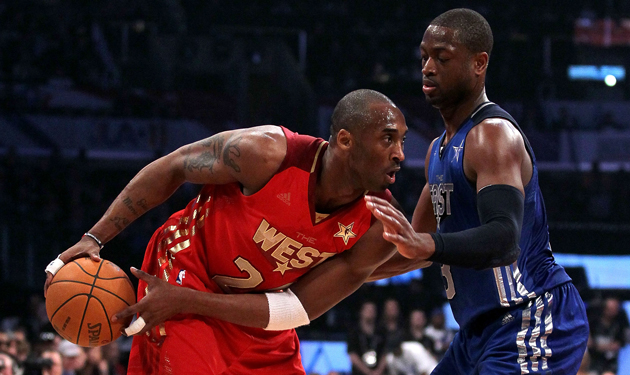 Kobe Bryant continues to rehab his fractured leg, with a possible late January return for the Lakers star. But Bryant told reporters Sunday night that he hopes the fans don't vote him in as a starter for the All-Star game, since he won't be back to his old self yet and may not be able to play at all. And he has a name for someone he hopes the fans look to vote for. 
"Even though there's so much respect that comes from me to be able to play for the fans, I'd much rather see the young guys go out there and play in the game," Bryant said before the Lakers faced Denver on Sunday night. "They've obviously put the work in to be there that weekend, so I'd much rather see them go in there and participate."

"That's obviously a sensitive topic for me personally, because you want to feel like you deserve to be in the game and play," Bryant said. "But then there's the other side of the argument where you've put in a lot of work over the years, and (if) fans vote you in, you want to go out there and show your appreciation and respect to them. I think it's always a delicate balance, but from where I come from, I really enjoy watching what the young guys are doing and how they're performing."

Although he would be honored if he's voted in again, he isn't even sure he'll be ready to play. Bryant only made his season debut Dec. 8, eight months after tearing his Achilles tendon, and he played six games in 10 days before getting hurt again in Memphis, sidelining him until late January at the earliest.

"I probably won't be able to come back (to the Lakers) soon enough to be able to make my stamp or be able to make my mark on a game," Bryant said. "So my advice would be to focus on younger players, the Damian Lillards of the world, because they're more than deserving to be out there and playing that weekend."
via Kobe hopes fans don't choose him for All-Star Game.
Bryant was the top guard in the initial returns for the game. And no matter what he tells the media, he's going to be voted a starter. This process doesn't make sense, the voters are basically like Twitter spam bots at this point. They just spit out a predetermined answer. 
So if Bryant wants a young guy to get the opportunity, if he really doesn't think he can go then, he's going to have to bow out and leave it to the coaches to decide his replacement. You'd have to think Lillard would be on the list of possible replacements, though. The West could be without both starters after Chris Paul was listed as out for up to six weeks with a dislocated shoulder Sunday. 
The pickings get slim after that, with Steph Curry, Tony Parker, Jeremy Lin, Ty Lawson, Isaiah Thomas, and Klay Thompson among th options for a replacement along with Lillard. 
Bryant should definitely bail on the game, though. He has a treasure trove of great performances in the game, and at this point, after suffering the fracture just weeks after returning from his torn Achilles, he has to be as cautious as possible with preventing any injury. He needs the rest. This is one All-Star Weekend that needs to be Mamba-free for his sake.